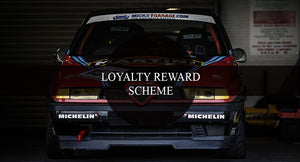 Trackdays.ie Loyalty Reward Scheme
As much as we love to see new customers taking part in trackdays and joining our sport for the first time, what we really love to see is you guys coming back time and time again. If that's happening it means we must be doing
something
right and that you guys are having a good time. Ultimately that's what we care about. To that end, we've implemented a loyalty reward scheme to give something back to our most loyal, repeat customers....and there's plenty of you out there! So to all of you who have supported us throughout the year, this is for you. Thank you!
How Does it Work?
Whenever you purchase a product from the website, you'll earn points. 1 euro spent is equal to 1 point. Points are earned against every single item on the site, whether its a trackday, a gift voucher or hardware/racewear.
When you have earned 1350 points you will be able to redeem your points to get a free half day track day.
So to put that in perspective, that's 6 full track days plus a few additional drivers and you'd have a free half day.
How Do I redeem My Points & What Can I Use Them For?
Loyalty points can only be redeemed against trackdays and not products. When you log into your account you will be able to see how many points you have. Until you have accrued 1350 points you will not be able to redeem them.
If you have over 1350 points, when you log into the site, the system will prompt you to use your points as currency and you can purchase a half day track day with your points!
More Good News:
To say thank you for your support throughout 2019 we have retrospectively added loyalty points to everyone's account who placed an order through the website to date. HOWEVER, THIS COULD ONLY BE DONE FOR THOSE WHO PURCHASED AS A LOGGED IN USER - WE COULD NOT APPLY THE POINTS TO PREVIOUS CUSTOMERS WHO CHECKED OUT AS 'GUESTS'. We've now updated the site so that it will automatically create an account for you when you check out, this will automatically add points to your account. We'll email everyone periodically to let you know how many points you've got! Thanks for your continued support!
---