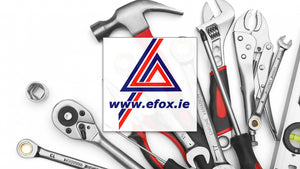 Trackdays.ie & E Fox Engineers Join Forces
This year is a big year for E. Fox Engineers Ltd as we are celebrating 75 years supplying the Irish market with Bearings, Tools and Lubricants. With a large range of premium brands, we are delighted to partner up with
Trackdays.ie as we believe we have a lot to offer its members.
Trackdays.ie will be stocking our range of Norse Tools
as well as a selection of consumables suited to the rack day driver all of which will be available here in the
shop section of the website.
We will be at a number of the track days with product demonstrations that will allow you to play with some of the products such as welders, pullers, Air Tools, Impact Guns etc and if there is anything specific you would like to see make sure to let one of the trackdays.ie team or ourselves know and we will try to arrange it prior to an upcoming event. You can see more of what we do at
www.efox.ie
and you will be able to buy some of our more popular products from the trackdays.ie online shop. Trackdays.ie will also have product available on the day and we will be running some promotional offers on new lines together so keep an eye on the website and Facebook page over the coming months.
---