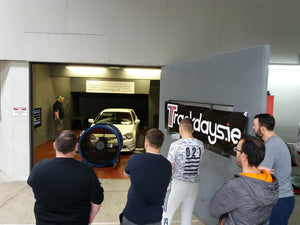 Trackdays.ie Dyno Day Report & Image Gallery
Something Different:
It was time for a change of pace, time for something a little different, something fun, something laid back and without any of the pressures that come with running a track day, but still involving cars...obviously! It was time for a Dyno Day! I've had my own cars mapped on the dyno a couple of times but I'd never actually been to a dyno day. They were really popular 10 or 15 years ago but you don't see so many of them any more - they do seem to be making a bit of a comeback though which is great to see because, as I can now testify, they are a thoroughly pleasant way to spend a day.
What is a Dyno Day?
If you don't know, a dyno day is basically where you get a bunch of cars, 10 or 20 or whatever, bring them to a dyno/rolling road and do a couple of power runs to see what power and torque your car is producing. It's not about tuning or mapping, it's purely about measuring engine performance and health. Now you might be thinking, what's the point of that? or as one of my less subtle mates declared "so it's just a cock waving exercise then" :) - Well actually, far from it, for the vast majority it actually proved very useful, myself included.
For a lot of guys it was a chance to check whether their stock road cars were still making the power they left the factory with, and if not they knew there was work to be done. For some it was about checking whether power claims made by previous tuners or bolt-on mods actually stacked up and for others it was about establishing a baseline for future tuning. For everyone though, it was a chance to chill out with some fellow petrolheads, meet some new people and check out some cool cars.
The Venue:
We chose
STONE Motorsport
as the venue for the dyno day simply because it's the best facility in the country and the aptly named Joe Power who does all the mapping has been a friend for years and we trust his work implicitly. Paddy McGrath did a great
feature on STONE Motorsport for Speedhunter
s which is worth checking out, as his pictures do the place far more justice than ours do.
Basically they're a full-service Motorsport operation which includes mapping, engine building, roll cage and sheet metal fabrication, car preparation, tuning work, suspension set up, painting, restoration....the whole lot. And it's not just for race or drift cars, as you'll see from the gallery, the place is littered with classics, show cars, rally cars, race cars, drift cars and daily drivers.
The Cars:
One of the things we try and promote at Trackdays.ie is an inclusive atmosphere - everyone is welcome. It doesn't matter what you drive and it doesn't matter if you're a championship winning racer or if you've never turned a wheel on track before, and that seems to bear out in the wide variety of cars we get booked in to our events.
The dyno day was no different and from 9am some really interesting machines started to roll through the gates. One of the first being Jason King's Nissan March 12SR, which is a car I have to admit i'd never heard of, basically it's a Micra on steroids and has a bunch of cool mods from the factory including high-compression pistons, hotter cams, a lighter flywheel, close-ratio five-speed gearbox and extensive chassis strengthening.
We had a brace of Honda's, as you'd expect, all very well kept examples including ep3 Type R's, a DC2, DC5 and EK race car, all of which made great power. You can't knock that Honda reliability!! The fast Fords were represented by Ian Fitzgerald and Dave Champ in their immaculate Fiesta and Focus ST's respectively. No track related event would be complete with an MX5 or two and we had both NA and turbo varieties, the latter being an impressive home built system. The JDM luxo-barges were out in force too with a brace of 1jz powered Toyota Cresta's, mkII's and JZX100's, all making well north of 300bhp. You can check out the full list of cars below.
We kept track of the stock, or expected power figures and the actual power figures on a whiteboard and at the end of the day emailed out the dyno sheets for everyone's power runs. The day was broken up with some complimentary Hang Sangers and plenty of tea.
During the lunch break the guys took a group on a tour of the impressive facility while Brendan and Joe strapped the mighty Drift Taxi on to the rollers - a job that requires the forklift truck to pre-tension to the restraining straps holding GS300 back, such is the power of this thing that it actually wants to climb off the rollers! At 1.8 bar it makes 740bhp, today it was running 1.4 bar which makes a mere 660bhp! The video doesn't do it justice at all, it sounds epic - When you have to put your hands over your ear defenders, you know it's good!! Thanks to John, Brendan and Joe for hosting us and thanks to all our customers who came along. We've been invited back and will definitely be adding this to the Trackdays.ie calender! [ngg_images source="galleries" container_ids="8" display_type="photocrati-nextgen_basic_thumbnails" override_thumbnail_settings="1" thumbnail_width="230" thumbnail_height="160" thumbnail_crop="1" images_per_page="100" number_of_columns="4" ajax_pagination="0" show_all_in_lightbox="0" use_imagebrowser_effect="0" show_slideshow_link="1" slideshow_link_text="
---