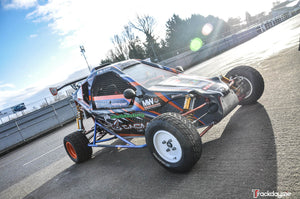 Trackdays.ie #TD09 Mondello Park Track Day Image Gallery. February 4th 2018
After a pretty successful first year Trackdays.ie kicked off the 2018 track day calendar on Sunday 4th of Feb. Being a Sunday and the first day on track after the long Winter break, demand was high to say the least. Two weeks out from the event we'd sold out and and over the course of the following fortnight had a 25-strong reserve list and must have turned away another 40 on the phone. While this made for a super atmosphere and buzzing paddock, it was busy on track, no two ways about it - and a bit busier than we'd like. We've always been about quality over quantity and while it was useful for us to understand the upper limit in terms of numbers we will be pairing it back a little for future events and enforcing the number cap, rather than squeezing people in to try and accommodate where we could. All that said, a great day was had, the weather behaved itself and on track manners, considering the numbers were very good. Despite that and for the first time, we did actually have to send someone home for not respecting the rules and the other people on track. It's not something we like to do at all but if we have to we will. It was great to see a really varied mix of cars on track and we welcomed the incredibly rapid rallycross buggies for the first time as well as a lot of regulars and new faces - which is always great t see! Images are thanks to our official photographer , Cian Donnellan.
Please contact Cian directly
for high res copies and Darran at
99 Red Balloons
for large scale prints and canvases Until next time.... [ngg_images source="galleries" container_ids="13" display_type="photocrati-nextgen_basic_thumbnails" override_thumbnail_settings="1" thumbnail_width="230" thumbnail_height="160" thumbnail_crop="1" images_per_page="300" number_of_columns="4" ajax_pagination="1" show_all_in_lightbox="0" use_imagebrowser_effect="0" show_slideshow_link="1" slideshow_link_text="
---