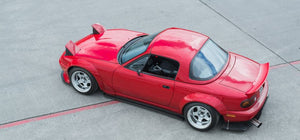 Top 10 Budget Track Cars For Under 2k
If you've got 2 grand burning a hole in your pocket, buying yourself a new track car should be right up there in the list of important things to spend it on! :) For €2000 right now you can get a hell of a lot of car for your money and the choice ultimately comes down to personal preference and what functions you want the car to perform. By that I mean what do you need it to do? Will it just be a track weapon that you will trailer to track days? Will it be a weekend driver or even a daily driver too? Does it need to function as a race car? If you want to drive it on the road you're going to need to factor in tax and insurance - as we all know, road tax on big-engined cars here in Ireland can be a hugely limiting factor. The positive side of that is that you can get some incredible big-motor machinery for small money, and if you intend to only use it on track you could grab yourself a real bargain.
Another option would be the track only or
pre-built race car
. There are plenty of examples of race cars that are 100% ready to go within a €2k budget. The beauty of buying pre-built car is that all the expensive stuff (cage, seats, harnesses, brakes, suspension) will already be done. All you need to do is hop in and drive. It will be ready to drive hard on track and shouldn't need any of the modifications a standard road car is likely to need to bring it up to spec, such as brake and cooling system upgrades at a bare minimum. You'll also have the added benefit that the car will be virtually ready to compete should you decide you want to try your hand at circuit racing or rallying or whatever.
Classic cars
are also worth considering for a number of reasons: A) You can tax & insure them cheaply as a 2nd car, B) they're generally more simple than modern cars to work on & C) they're just cool! So to pick out our top 10 budget track cars for under 2k we headed to the hallowed pages of
DoneDeal
. All the cars listed below were found for under 2 grand at the time of writing. I haven't included links because most cars will be gone within a matter of weeks
Toyota Celica
Price: From €500
With a few simple mods the 6th gen Celica makes for a fun and reliable track car. The SS-III with the 197bhp BEAMS tuned 3S-GE engine is the one to go for as the 4 wheel drive GT4 will probably be out of budget. I raced an SS-III a few months ago in the
MicksGarage Future Classics Championship
and it was great fun, albeit a bit on the heavy side! But it had plenty of power and has proven itself to be a race winner with little more than a roll cage, some decent coilovers and racing brake pads. There are also plenty of 7th gen Celica's available for small money
Mazda MX5
Price: From €950
The MX5 is the most popular roadster ever built and for good reason. It's simple, reliable, great fun and pretty quick. Granted 130bhp from the 1.8 doesn't sound a lot
but combined with the standard limited slip diff and 50/50 weight distribution it doesn't need a lot of power. That said, bolt-on turbocharger and supercharger kits are readily available and there's a wealth of information online about fitting them. Go to any track day here in Ireland (or anywhere for that matter) and you're almost guaranteed to see a few MX5's. With a few simple upgrades to brakes, tyres and shocks you'll have an amazing little track car!
Robin Hood/LoCost
From €1750
Most of you reading this probably won't have heard of a Robin Hood or LoCost and most probably won't like them, but bear with me on this. Robin Hoods and LoCosts are budget versions of the Caterham 7 (which was based on the Lotus 7 designed by Colin Chapman) You Might have seen the Caterham R500 on Top Gear at the hands of the Stig, setting one of the most impressive laps and beating the Bugatti Veyron and the Zonda. Now, Caterham R500's are expensive but essentially they're the same thing as this Robing Hood, albeit with a lot more power and other fancy bits thrown at it. As it is, the Robin Hood would be plenty quick enough to make an exciting track car. The great thing about this type of car is that they're essentially like big Meccano sets and you can just bolt better bits on. Replacing the ageing Ford Pinto engine in this one with a more modern 2ltr Zetec or Duratec is a simple enough job and would have you at 150ish bhp without any other engine mods - with a weight of under 500kg's that will feel very fast indeed!
This type of car makes for a great on-going project and if you like tinkering away at your car there could be no better option. I had a Westfield myself which started life as a standard road car with a 130bhp zetec engine and ended up 10 years later as race car with 350bhp Haybusa Turbo engine.
Citroen Saxo VTS
From €600
The Saxo VTS (or Peugeot 106 GTI which is based on the same platform) makes for a great track car. At the time of writing there was a really nice looking road legal example and
a fully race ready example for under €2000. Depending on what you wanted in a track car either would be a good bet. The 1.6 litre engine produces 118bhp in standard form which is not a huge amount but in a car that only weighs 800kg's it's quite lively. The race ready example we found would be perfect for track days but if you had the urge you could go circuit racing, rallying or hill climbing in it.
Ford Fiesta Zetec Race Car inc trailer and spare car
Price: €2000
Like the Saxo above this was a ready-to-go race car, but this time complete with trailer and a spare car, all for €2000! While the Fiesta isn't going to set the world alight in terms of performance, it's an ideal starter car if you think you might like to get involved in Motorsport. The car is eligible for the Mondello Fiesta Chmapionship, Future Classics, Rallycross and Hill climbs, so you really could do anything with it.
BMW 3 Series e46 325/328
Price@ From €1500
We were hoping to see an M3 in budget but sadly it wasn't to be. There are plenty of e46 325's and a handful of 328 coupes available for under €2k though, both of which can make excellent track and road cars. The straight six M54 engine pumps out 189bhp and sounds awesome while it's doing it! Obviously being rear wheel drive you can have a lot of fun in one but if you're planning on serious track use you'll need to look at brakes and cooling in particular as the e46 is not particularly light at 1450kg's
Renault Clio Sport 182
Price: From €1700
With 180bhp and a curb weight of just over a tonne you can understand why the Clio RS has such a cult following. Compared to other hot hatches from the same era the Clio is pretty rare and pickings are fairly slim, in fact there were only 2 listed on DoneDeal at the time of writing. Possibly because of their relative rarity most Clio RS's seem to stay as road cars rather than being turned purely into track cars. There are plenty of upgrades available for the 182, particularly from the 'cup' range but they can be very expensive
Honda Civic Type R
Price: From €2000
You can just about get an EP3 Type R Civic within budget, although the only one we could find that cheap was on northern plates, which would be no issue if you intend using it for track only. The EP3 type R has over 200bhp standard an LSD and all that VTEC goodness. My only issue with buying one of these is that at €2k you're looking at the very bottom end of the pricing spectrum so expect a few issues and car that's basically been thrashed to within an inch of it's life! Before we get too judgy though, bear in mind that's exactly what you're going to do with it too! Luckily there are thousands of spares around and countless Honda specialists who stock all kinds of go-faster bits, you probably won't find a car with more aftermarket accessories available which means fixing it when it breaks shouldn't cost an arm and a leg.
2001 Subaru Impreza WRX
Price: From €1500
You couldn't have a list like this without featuring an Impreza! At 2 grand you'll probably be limited to the less attractive bug-eye model or the estate. We found this really nice looking standard WRX wagon for €2k. An Impreza turbo would make a great, practical daily driver for occasional track use or with the sheer amount of aftermarket tuning parts available could be modified into a serious track toy. They are quite thirsty though, but fuel economy shouldn't really be a deciding factor when it comes to cars like this! Being the only 4 wheel drive car on the list, with a few minor mods the Impreza would be well suited for navigation rally's too.
Seat Leon Cupra
Price: From €1650
The Cupra really is the thinking mans Golf GTI. It's underpinnings are the same as the Audi A3 and the Golf and it also features the same highly tune-able 1.8T VAG motor. With 180bhp standard a simple re-map can have you in the region of 22obhp and the common K04 turbo upgrade can have you close to 300bhp with minimal extra effort. Apparently the stock bottom end is capable of handling almost 500hp, although for how long we're not sure! In standard form the Cupra would make an excellent road car for occasional track use and is ideal for modifying.
So there you have it, that's our top 10 track cars for under 2 grand. If I had to pick one... it would be a very tough choice - I like them all! I'd probably go with the MX5, closely followed by the Renault and the Subaru. But ask me again tomorrow and i'd probably have changed my mind! Is there something that deserves its place on this list more than what's currently there? Tell us about it in the comments below or drop us an email. Don't forget to check out all the info on our next track day
here
and also
have a browse around our shop
- we have some pretty nice merchandise as well as track days and gift vouchers!
---