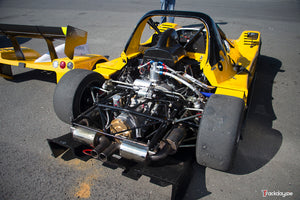 Trackdays.ie #TD05 Mondello Park Track Day. July 17th 2017. Image Gallery
Wow! What a day, and I'm not just talking about the weather, although it was officially the hottest day of the year. Our fifth Mondello track day of 2017 was a complete sell-out. We even had stop adding people to the reserve list. Unfortunately we had to turn a few people away on the day which we hate to do but capping the numbers at around 65 cars allows us to keep the open pitlane format running and provides just enough space on track while giving you guys plenty of people to play with!
I'm always banging on about how great it is to see such a wide variety of cars at trackdays.ie events and #TD05 was, without doubt, the most diverse yet. The bar was also raised in terms of the standard of cars out out on track too. Another thing I'm always banging on about, and I make no apologies for it, is the number of new drivers we're getting. We had over 20 newbies on the 17th. These are guys who had never done a track day before and it's great to have new blood, new enthusiasm and new cars being brought to the sport. If you're new, don't forget to
sign up to our mailing lis
t and join the trackdays.ie
facebook drivers group
Driving standards were, on the whole extremely good, especially considering the number of new drivers and volume of cars. This is a testament to you guys and the respect you show for each other on track and I want to take this opportunity to say thank you. Our reputation relies on it and while we do everything we can to promote high driving standards, ultimately it comes down to you. So THANKS! keep up the good work!
Images are with thanks to our official photographer Adam O'Connor For hi-res, non-watermarked please contact Adam directly via his
facebook page
. For large scale canvas prints please contact Darran O'Hara at
99RedBalloons.ie
See you on September 4th!
Rob [ngg_images source="galleries" container_ids="9" display_type="photocrati-nextgen_basic_thumbnails" override_thumbnail_settings="1" thumbnail_width="230" thumbnail_height="160" thumbnail_crop="1" images_per_page="50" number_of_columns="4" ajax_pagination="0" show_all_in_lightbox="0" use_imagebrowser_effect="0" show_slideshow_link="1" slideshow_link_text="
---