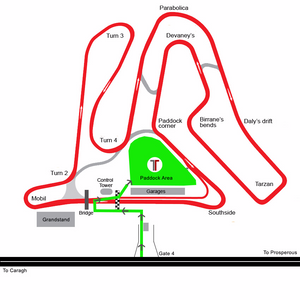 Trackdays.ie Next Track Day Directions & General Info
SCHEDULE:
Please ensure you arrive in plenty of time to get signed on and briefed!
Gates Open: 8am
Sign on: 8.15am - 9.30am
Briefing: 9.40am
Morning track session: 10am - 1pm (FIRST 10 MINS BEGINNERS ONLY)
Lunch: 1pm - 2pm
Afternoon Sign on: 1.15pm - 1.45pm
Afternoon Briefing: 1.45pm
Afternoon track session: 2pm - 5.30pm (FIRST 10 MINS BEGINNERS ONLY)
Map:
If you've never been to Mondello Park you can get directions via Google maps here: Once you're there, go in through
gate 4
and turn immediately left, head towards the grandstand then just before it, turn right through the gate, veer right, across the race track then go through the first gate on your left in to the paddock.
Facilities, Consumables & Equipment
At the track we provide all day refreshments and lunch for those booked in for the full day. We have on-site photographers and videographers and a Virtual Reality sim racing centre. We stock a range of consumables such as racing engine oil, racing brake fluid, cable ties, gaffa tape, disposable gloves etc and also a small range of merchandise and racewear such as helmets, gloves and boots which are available to purchase. There is no petrol station on site and the nearest filling station is just 2 minutes down the road in Carragh
On Arrival:
Find yourself a spot behind the pit garages or grab yourself a garage. The garages are open and free for you to use and are on a first come first served basis. You can get 3 or 4 cars in a garage so
don't be shy and squeeze in!
You'll find power points, sinks and bins in every garage. The only stipulation with the garages is that you leave them in the condition you found them in.
Our hub for the day is the Grand Prix suite which is located up the stairs, directly above the pit garages. Look for the Trackdays.ie banners to find the entrance. The Grand Prix suite is where you'll find sign-on, briefing and most importantly, tea, coffee cakes and lunch! So take advantage of the room and keep warm! But most of all have a great day! See you all there Rob, Stephen & the Trackdays Team
---