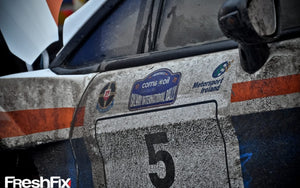 Mud Sweat & Gears in the West: Galway International 2017
Winter is such an odd time. All the glory and success of the last year is parked in a corner, cars are rolled into garages, spanners earn their keep and generally everyone presses a big reset button. As the days shorten to nothing more than a quick blast of sunlight and the roads descend into a grimy hell, plans are a-brewing. year is the very same. Be it tinkering with new parts, dealing in new cars or even deciding on which events & championships to attack, the rally community keeps ticking over at a ferocious paces. Rumours swirl of who has placed orders on the latest machinery while the various graphics shops only whet the appetite with snippets of new liveries. But then it's time for Galway Internationl 2017, the talking and shadow boxing is over, the cobwebs are rubbed off and it's time to launch full tilt into 2017.
A traditional curtain raiser, the Galway International is the opening round of the Irish Tarmac Championship, as well as a number of smaller regional championships, and has long been the place where the masses could cop eyes on the latest cutting edge rally machinery as they got their first blast on Irish Tar. Scrutiny on the Friday was long the go-to spot for all the unveilings, although the rise of the internet makes any surprises almost common knowledge before the covered trailers are cracked open for the first time. Sitting with the coveted No. 1 on the door was Garry Jennings in his Subaru Impreza S12 WRC. Last year's winner, Jennings has become a sporadic sight on the stages, although watching him at full, often very sideways, chat is special. Although now quite an aging car against its rivals, the Scooby is still an incredibly potent package.
Right behind Garry on the road were a pair of Fiesta WRC's of Declan Boyle & Roy White. Although none of the WRC men were eligible to score championship points, each came West with strong desires to perform well and get mileage on the cars before tackling the National Series. White, last year's National winner was on the pace right from the start in the older Fiesta, but it was Boyle in the 2015 spec car that was neck and neck with Jennings at the head of the time sheets early on. Unfortunately for Declan, he seems to always either end up at the head of the pack or suffering from problems, with very little between them. This time around, his Galway charge would end on Saturday afternoon with an engine issue that couldn't be sorted in Service.
Being the 1st round of the ITRC meant that all those with title aspirations crossed the start ramp, led by last year's runner-up Alistair Fisher, driving a new Ford Fiesta R5. A string of similar cars followed with the Moffett brothers Sam & Josh in a pair of distinctive R5's, Stephen Wright was in another and Stephen McCann debuted a high revving S2000 Fiesta. A surprise late entrant was Robert Barrable in yet another R5 Fiesta. Robert was one of the first people to embrace the new-era of cars, when he bought a Skoda Fabia S2000 in 2011, winning the West Cork, and even pushed Craig Breen right to the edge at the 2015 Circuit of Ireland, but this was a return to the stages after 20 months away.
Also towards the front, all manner of new driver and car combo's got a first outing. Aaron MacHale had swapped an S2000 Fabia for last year's championship winning Citroen DS3 R5, although his event would come to an end on Saturday. Paul Rowley had gone the same route from a Skoda to a Citroen, while Brendan Cumiskey had traded the Fiesta for an R5 Fabia. Joseph McGonigle was pushing the lovely Maxol-liveried Skoda hard all weekend, while Johnny Green had a redesigned DS3 yet there were eyes looking elsewhere among the International field.
Towards the end of last year, Ford WRC outfit M-Sport announced their involvement in a brand new junior rally programme revolving around the Fiesta R2 National. Based on a 1L Turbocharged Fiesta, and sounding distinctly like a Porsche, this is a route designed to get younger drivers onto the ladder of progression through the sport. While there has been no talk of who has committed to the idea as of yet, Jon Armstrong, a regular competitor at Junior WRC level, was sent out to put on a bit of a show in the all new car, and that he certainly did!
Now, when getting ready for the trip to Galway, there's two things to expect. The first is that there'll be new cars to ogle, the other being that it's going to be cold, and damp and very muddy!! It's just the way it is. Stonewalls turn black from wheel spray, and standing on Stage 1 it's clear that nearly every car is scrabbling for any semblance of grip on the shiny tarmac. It seems a real battle to get power down, and the rear-wheel drive modified crew only highlight this. A once solid roadside bank becomes nothing more than a collection of mud and shards of Ford Escort rear lights as all manner of approaches to a slow hairpin right turns into an arse out show for the masses of spectators.
The National section of the rally encompasses all manner of modified machinery, but is naturally dominated by fast Escorts. Gary Kiernan, Damien Tourish, Pat McHugh and countless others were pushing hard all weekend, with the battle for the spoils ending with 1.6 seconds in Kiernan's favour. Liam Howlett was his ever sideways self when passing on SS1, but alas it was yet another meeting of Big Red and a solid ditch that would end their run on the second test. The distinctive pair of BMW's of Eugene Meegan and Richard Whelan added a bit of variety, but it was a Corolla Twincam of Kevin Eves who grabbed the final podium spot.
Further down the pack, countless personal battles raged from those looking to take class honours to Art McCarrick simply wanting to finish a rally for the first time! His C-Sport Civic was among a number of rapid Honda's being pushed hard, and Declan Boyle's son Michael debuted his newly built EG Hatch. The choice to get left-hand drive is a serious statement of intention as the young Donegal man looks to be gunning for Marty Gallagher or Will Creighton in homologated R2 machinery at some point.
Following a rally can be easy enough, and all it takes is a decent sense of direction with a map and in no time you can be running from stage to stage, buy when taking pictures, I prefer to go deeper into a stage and stroll away from the busy junctions. Where's the fun in standing at a bale chicane, when a mile down the road you have a personal view as the cars come over a blind crest into a 200m straight. Its bliss as cars fly past inches away at over 100mph, a rare sight on wat is definitely one of the tighter and twistier rallies. The stone lined roads seem a myriad of junctions and turns, and the relative flat landscape makes standing water a definite issue.
The Historic Championship, which kicked off last December in Killarney, was sparse on competitors but certainly didn't lack in spectacle or commitment. A pair of German visitors brought along some beautiful sounding Porsche 911's, while Galway's Frank Cunningham had jaws dropping with his BMW M3, but it was a familiar Escort battle between Ernie Graham and Gareth Lloyd setting the pace. Graham took the win this time, but expect plenty of dicing between the pair all year.
The weather, cold but mainly fine on Saturday, came into play with a vengeance on Sunday morning. Ice covered the stages, and the first loop was cancelled on safety grounds. Coupled with a stage shortage caused by a disgruntled resident, the Sunday blast turned into a sprint to the finish. After being pushed early on by Boyle, Garry Jennings had plenty of breathing room once his rival retired. A very controlled drive saw the red Subaru crossing the winner's ramp yet again with nearly 60 seconds to spare. Roy White brought his Fiesta home in second to secure a WRC 1-2, but he only had 8 seconds to spare over Ali Fisher. Although 3rd, Fisher heads to Clonakilty in a few weeks with maximum Championship points before Round 2 the West Cork Rally. Sam Moffett got second, while Barrable has committed to further events after finishing 3rd in the championship runners.
And so we're off. 2017 is go, we have the first big event of the year in the books and now it's time for planning all over again. No matter where in the country, a rally will be close at some stage, and the merry band of drivers, crews and fans will descend no matter the time or weather!
---