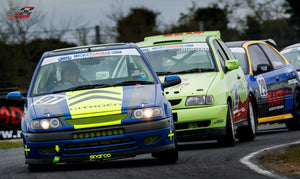 Life After Track Days: What's Next? Future Classics Racing
Unlike our next door neighbors in the UK, we're sadly not blessed with a wide variety of race tracks on our doorstep. For the Irish track day enthusiast this can become a bit of a problem as we only have Mondello Park and Kirkistown to choose from and after a while the repetition might just start to set in. We get it - if you're into track days, the adrenaline buzz is something you crave and we appreciate with so little in the way of track choice, the interest might start to wane over time. Now, at Trackdays.ie we're working hard to inject some variety and dynamism into the trackday scene but none the less, some guys might eventually get bored! So, we got to thinking. Rather than seeing track day regulars hang up the helmet, could we do anything to help keep them within the sport we love? With that in mind, here's the first in what we hope will be a series of articles about the various different forms of Motorsport in Ireland that you could potentially get into. Introducing Mike Dermody from the MicksGarage.com Future Classics Racing Championship: Rob
Ladies and Gentlemen, do you remember back in time when you attended your first track day, had a blast thrashing around the circuit and caught the bug? You just couldn't stay away and now have racked up more track outings than you can remember. You may even have purchased and prepared a car for the occasion, removing everything unwanted to reduce power to weight ratios, played around with different tyre choices checking times in the wet and dry etc. All great fun, affordable and unmatched in sheer adrenalin, something you could do forever…… or is it?
Many visits to the track notched on the belt, times seriously improved, you've noticed that you're no longer getting quicker and the urge to attend is waning, why bother attending the next track day if there is nothing more to learn? So, the seasoned track enthusiast starts to miss the odd day, the car stays on the trailer….. "What's the point?"..... "I might do another one in the future"!!!!! Well maybe there is a next step and perhaps the thought has already crossed your mind. Why not consider taking the track day experience to the next level and pit your ability and wits against others with the same interest by racing. "It's too difficult and time consuming, not to mention the costs" I hear you say….. Some might even think track days are one thing but racing is a complete other. Well, there's only one way to find out!!!
Why not start by consulting a current class or club that peaks your interest. Find out what's involved, perhaps your car only needs minor modification? You may even have your eye on one of the many race cars competitively offered for sale on various media or other platforms. You will quickly realise that there are many options and classes available, Saloon car or single seater? That choice is yours to make and if open wheel is where you want to be, the affordable classes such as Formula Vee or Formula Sheane will be only too happy to enlighten you as to the requirements and indicative costs involved. There is no doubt that your appetite will be well whetted. If saloon cars is your thing the options are many, ITCC is a very quick class with well-engineered machinery and very competent drivers who have the where with all to bring a new entrant under their wing and ensure maximum enjoyment. If that class is too daunting for your first time racing the Zetec Fiestas are perfect, competitive, cost effective and fun to drive. The Fiesta ST's are more expensive, quite quick but also a great class with a high standard of drivers. There are several other classes and options worthy of investigation also.
A fantastic class to start your racing in saloons is the Future Classics, this class is an eclectic mix of cars and horsepower, open to car, a minimum of 21 years old. The class was initially setup to allow affordable racing by bringing back to the track cars that were in storage from yesteryear such as the Fiat Uno and Punto to name but a few. The introduction of a time barrier was put in place to ensure that the chequebook could not win out and cars in breach of the barrier time were penalised. For several years the class provided fantastic close racing and the sight of 20 plus different makes and models hurtling around Mondello appealed to many with championships always going down to the wire. Evolution will always have its day and for the 2018 season there has been a significant rule change that makes the Future Classics even more appealing. The retention of the original classification was important for cars like the Fiats etc. but the eligibility of more modern cars coming within the 21 year rule saw the introduction of serious machinery and let's be honest there's little point in driving a race car slow, so a second quicker class has been added. The barriers continue to exist with the original future classic class staying as is, whilst the new super future classics class is governed by a more realistic lap time that allows for full on racing, unless of course you have decided to run a monster of a car or possess serious ability, or both!! The chequebook is managed by the barrier time so your monster is your decision.
There is a great camaraderie in the Future Classics and help is always on hand regardless of the problem. Drivers have been known to simply hand over a complete car to another competitor in the interest of getting everyone racing. An important element is affordability and the flexibility in this class provides many options. Your car must possess the necessary safety measures and pass scrutiny but other than prohibition for space frames, 4wd, forced induction and sequential gearboxes you are free to race virtually anything older than 21 years when first launched. Check out the recorded races on Mondello.TV and YouTube and you will see for yourself the spectacle and fun that is Future Classic Racing. Membership is very competitive and the cost to join the Championship is a mere €50. How can you go wrong?
Now that you've decided to race you simply need to obtain your licence. This is quite simple and Motorsport Ireland will provide you with a starter pack and unique ID number which you provide to Mondello Park after which they schedule you for a day's training which involves a little theory and assessment of driving ability. Once in possession of the Mondello certificate, Motorsport Ireland will send you your National B licence for a much reduced cost given that it's your first ever racing licence. You are required to race your first season carrying the Novice cross which tells other drivers you are new and this helps with the settling in process on your part also. Personal protective equipment such as flame retardant suits, helmets etc. can be purchased from the likes of Murray Motorsport who have very competitive rates for starter packs….. Now you are racing!!!!!! We started the discussion with track days and the potential losing of interest….. Suddenly track days take on a whole new meaning. Once racing you will find that measuring yourself against others on track will further develop your ability and then track days become a source of testing and developing for both you and your car. You may have noticed during previous track days a number of race prepared cars going in and out of pit lane and wondered why….. Well it's quite possible that drivers started with a penchant for track days, followed through to racing and are now using track days to engineer improvements that bring benefit to their racing. So…. If you're starting to tire of track days, before you hang up the helmet, consider taking up racing! Talk to Stephen or Rob at Trackdays.ie, they know plenty about the series and come and see us at Future Classics if saloon cars are your thing and bring a whole new meaning to what was once an ordinary day on track. Best of luck and here's hoping to see you on the grid. For more information check out
www.futureclassic.eu
and
Micks Garage Future Classics Facebook page
. Thanks Mike Dermody Images with thanks to Michael Chester & Brian Walsh
---