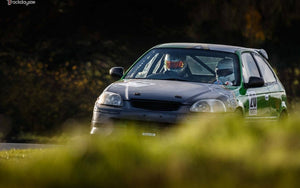 Marty has issues.....
Hi, I'm Marty and I'm the founder and owner of Freshfix. It's not unknown between my friends and family that I change my cars more than my boxers! Writing this post makes me realize that they may be right about that. Let's go back to 2007 when I had just turned 17 and passed my driving test and it was time to buy my first car. I had spent years dreaming of my first car being a Jap import or something fast. I was lucky enough to have friends who were older than me and would own these very cars - I just wanted my own. Well, lets just say that didn't really go to plan. To cut a long story short I was roped into buying a 2003 Ford Fiesta 1.4 TDCI....even typing this has sent shivers down my spine.
Toyota Glanza
That car lasted 3 days, yes 3 days! I absolutely hated it and went straight to the bank and took out a €4,000 loan to go get a car I really wanted, or thought I wanted! A close friend was selling his Glanza non-turbo, but for me it was still €2,500 for insurance. You can see the only picture I have above, I loved the car, it was clean, loud and I felt like one of the LADZ, that was until one morning before school I used the remote start to warm it up before getting out of bed. A massive bang followed by the alarm going off which revealed the car was left in gear the night before and had crashed into the front of the house! I had to replace the bonnet and front bumper and got a massive bollocking off my folks!
At a time when the scene was massive and if it wasn't a SIR or Type R, well people just didn't think it was cool or good enough. I always liked the Honda Ek Civic but sadly couldn't afford a SIR or TYPE R and never mind the insurance. The closest I could get was the 1.5 engined EK3 - a fresh import too! This was the first car I spent a crazy about of money on changing it around and trying to get it up to the EK9 standard without actually changing the engine. I had it for about a year and a half and sold it on to a guy who eventually stuck the Type R heart into it. I came across it recently on the Honda Page on
facebook
before a track day only to be told it was written off on the way to the track day.
Que the sticker bomb era and yes I did go with it. I picked up my first car with VVTI. This was a fun car with the two stages but trying to feed this car the petrol it required was tough so it didn't hang around too long.
One of my favorite cars to date was my Mk4 TDi which was remapped and produced roughly 300Ft-lbs of torque, it did everything I needed at the time and had the heated leather Recaro's from the Anniversary model. I used to contact the guy I sold it to from time to time, asking to buy it back but he never would sell it! When I sold my Mk5 golf in 2016 the buyer actually owned this car and he still wouldn't sell it!!
This is one of my spur of the moment 'lets buy this' cars. It was a 1.6D with a k24 turbo strapped onto it. It ran like a pig but was funny and just turned heads. Again I didn't keep it for too long. Check out this video of it on the dyno! SMOKE AHOY!
http://www.youtube.com/watch?v=cw6sjCrzQKE
My first ever RWD car and the car which caused me to capture that dam track day virus! I bought this while in college for €5750 I think from Darren Mc Namara (Dmac) in Cork. it had no interior whatsoever and a roll cage and was in good need of some TLC in the engine bay and interior. The good thing about the Ae85 at the time was I could get it under classic insurance. We agreed to do the deal based on the fact it would go through the NCT. Months passed and I had finally got the text to say the car was ready for collection. I didn't spend much on making it look pretty more just drove it and even learned how to do a few skids with the help of the Dealtwidth crew.
I used this car while in college along with the Ae86. This was the sensible car for roughly two years and brought me around Ireland meeting people while doing work for
FreshFix.
Nothing fancy at all with this car, a set of JOM coilovers and fake BBS wheels. This ended up getting stolen from the new owner only weeks after getting it from me.
At the point, I started working in the motor trade and had some spare cash built up. I would never have dreamed of owning a French car but this grabbed my attention and was extremely fun to drive. It has really short ratios and stuck to the road like glue. It was so much fun I went left out the gate to
Mondello
one morning instead of work and just called in sick. It was strange showing up to the track day in a suit and tie.
I loved these so much I bought two! Well, one came up in the trade for very cheap so I couldn't say no. I later sold both of them to recoup some cash as the Motorsport bug had bitten.
Talk about drinking fuel! My Evo 7 was the first proper performance car. It was remapped to 350bhp and was mighty fun to slide around in the wet. I still see this around coming home from work.
I saw this online for sale and called the insurance to see what the story was. I was able to get insured and bought it that day. The guy actually selling it worked in the same motor group as me funnily enough. This was a mega car and my first real bite at the V-Tec cherry, it ended up going to Spain in the end.
I caught the Motorsport bug and found myself competing in the Mondello Park Fiesta championship in 2015, I bought this car ready to race and spent little or nothing on it all year. I would go on to learn the in's and out's of Motorsport pretty quickly but also take home the rookie championship. It was also the start of a serious Motorsport addiction!
Still working in the motor trade at this point I needed something with power but also not drawing too much attention from the po-po. It was a nice car but too many things rattled and bugged me with it. Still, wouldn't stop me owning one again. The guy who bought this off me owned my Mk4 still.
It was like going back in time with the Ek3. This time I built it from the ground up myself to compete in the
Future Classic Racing Series
. I had a good start to the season in 2016 but ended up with only doing 5 out of the 10 rounds. I sold this to the guys at Trackdays.ie and bought ......
Yup, another civic but this time with a bit more bhp. This came up after my good friend David Cassidy was borrowing it to finish off his
ITCC
season. A lot went on with the car so to save me typing it all out you can visit the
VLOG
to see what went on. I still own this car.
I traveled to Cork twice for this car, I also had
IDC
driver Mike Fitz check the car out for me before I made the trip down - goes to show how much people will go out of the way to help you - Thanks, Mike! I first went down and agreed on a price, I was left standing at the petrol station with no response or anything from the seller after he had to go "home" for the logbook. Long story short a friend had to buy the car for me. I got a towbar fitted and this brings me and my race car everywhere, it's also good to sleep two people, the perfect all-rounder in my eyes. I still own this car and decided that when it breaks down majorly I will change it....its just clocked 178k miles and still no signs of that going to happen. Believe it or not, I left out a good few cars that were more of a run about than something I truly enjoyed.... See you next week doc for the next session?
---