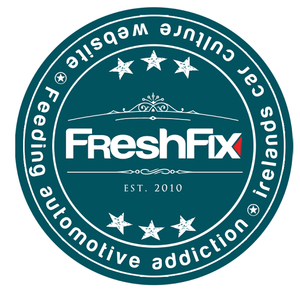 A Little History Lesson - FreshFix
Am I right in saying I saw Freshfix before?
Yes, you are correct, Freshfix did live before way back in 2010 but let me fill you in what happened and why we went off the map for a short time.
Back in 2010 while in college the likes of Juiceboxforyou was the only real Irish blog showcasing the Irish scene. I was fascinated and wanted to start my own blog but try to focus on the VAG scene. At the time I was a member on Vagdrivers.net,I pitched my idea's to its members and the name Freshfix was created.
For a start, I didn't have a clue how to create a blog,Thankfully my cousin came to the rescue and a basic site was built and created. A few weeks went by and I received an email from Paul Gallagher who was a graphic designer from Donegal and the "real" Freshfix was born.
Looking back now I didn't have a clue what to do and what to post. We had a number of people who helped contribute to the site from the beginning to the….well eh resting period. We were trying to keep with the times of what was cool and also start some merchandise the facebook page was starting to grow and people started to talk about the site. Of course not everything said was positive but you have to take that when starting to voice your opinion on the interwebs.
I will happily admit now that when I was writing about an event or subject it was just me trying to be the next Juiceboxforyou or Paddy McGrath from Speedhunters, or say what the cool kids wanted to hear. It was a lesson learned and going forward I plan to make the adjustments required to improve the content. Another thing I also learned is that I cannot write for S**T ( you may have already noticed already from this post) but again it's time to learn and improve.
Dealtwidth
I received a message from David Egan asking would we do something with his new drift team ( DealtWidth) along with WKD Imports. He liked the style of photography and we both had the same image in our head of where it was going to go. We did some work together but trying to cover a weekend for Freshfix along with a video for WKD & Dealtwidth was tough to do, with the work of the team we got it done but maybe not to the best of our ability. Sadly this didn't continue on but was an experience nonetheless.
So how did it die?
College was finished and a career was pursued in the motor trade. The issue with that is I had to work 6 days a week along with wanting to start racing at Mondello Park. The exchange for racing was to sell off all of my camera equipment to fund the car,racing suit and trailer. At this point, all my focus went to racing.
Conor & Adam kept updating our facebook page but the domain expired and basically, everything was gone, all that was left was our 4000 likes on the facebook page. Hats off to the guys who helped out because no one received a penny from Freshfix, without them it simply would not be what it was or is going to be again.
Cool,so what can we look forward to?
Motorsport is still a massive focus of mine but along with the racing, I started to do some vlogs with a friend. It started off as a facebook page called JustForFun Motorsport and we documented the build of the cars and some weekends. Again this didn't really work out but I thought of how can I combine this and Freshfix back together.Rob King advised me I should start it again and when I turned to the guys who helped me before they all agreed. With the help of Rob, I also designed parts of the website which is all new to me.
What's going to be on the site?
The site will have 4 main compartments-Blog Posts,Vlogs,Image Gallery,Shop.The blog posts will be a combination or random ramblings along with features and event reviews. The vlog will mainly consist of motorsport diaries and possibly some car reviews. The image gallery can be your one stop shop if you were at a recent event and looking for a photo of your car. The shop will allow you buy the most recent Freshfix merchandise
I do hope you will tune back in and give us some feedback where possible. To celebrate our comeback we are giving away free lanyards. All you need to do is subscribe to us here
---