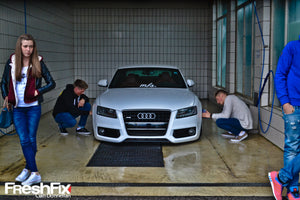 Wörthersee Image Gallery
Once you have to explain it, or even rationalise it, you're onto a loser straight away. If you're not into the scene, chances are you've probably never even heard of it. Worthersee is an enigma of an event. To VW guys it's up there as their Mecca, the ultimate dream show to attend someday, and they spend countless hours online soaking in every last bit of coverage. To an outsider though, it's pure madness. But that's what makes it soo damn appealing. For such a well-known event, a lot of mystery still revolves around this most unique of gatherings. As part of my college degree, the option was available to spend a year abroad. Little did my parents know the true reason I jumped at 10 months in a very sleepy corner of Southern Austria.
The Worthersee, which lends its name to the festival, is a stunning alpine lake, roughly an hour from the Italian Border, surrounded by the foothills of the Southern Austrian Alps. The city of Klagenfurt lies at one end, and 10 mins driving later you have Velden at the other. The term picture postcard comes to mind a lot in this part of the world. Tourists flock for countless outdoor activities, and the clear calm waters are enjoyed year round. But then, for three weeks in April and May, the quiet serenity is utterly shattered, and all hell breaks loose. Living less than 10 mins from the lake, I was ideally right at the centre of what must surely be one of the world's craziest car events. At this time of year, countless new builds are partially complete, and plenty out there are making plans for 2017, so this is my own personal look at what exactly Worthersee is all about. Who knows, I might even tempt you into booking your holidays for a trip to Austria!!
[ngg_images source="galleries" container_ids="11" display_type="photocrati-nextgen_basic_thumbnails" override_thumbnail_settings="0" thumbnail_width="160" thumbnail_height="160" thumbnail_crop="1" images_per_page="50" number_of_columns="3" ajax_pagination="0" show_all_in_lightbox="0" use_imagebrowser_effect="0" show_slideshow_link="1" slideshow_link_text="
---