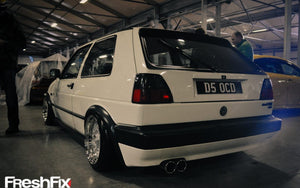 Welcome Cian Donnellan To FreshFix
My name is Cian Donnellan…………and I'm addicted to cars!! God that was a relief to get out there, but then again making that admission on a site like this is like saying there's sand in the Sahara. I suffer from the most extreme of afflictions, namely petrol in the blood. Diagnosed since birth, the parents recall times when I was 2 or 3 years of age happily sitting on their laps during journeys (remember when that was safe and socially accepted!!) naming every car as they whizzed past. Right through primary school, ask me what I wanted to become and the answer was always to be Colin McRae.
Having a parent from Donegal, rallying was always going to have a massive role in shaping my automotive passion. Growing up, every Christmas would see the
WRC
review annual land onto the kitchen table, while being allowed up late once a week for RPM on UTV was a rare treat. But it took ages for me to experience rallying in real life. In Cork City, the closest we got to the action was the Cork 20 Finish Ramp each year. My parents were busy at weekends, and besides they had better things to do than stand in a ditch.
Once I got my license, there was no stopping me. I'd wreck manager's heads by constantly wheeling and dealing hours here and there to get Sunday free to drive the country to take in some action. For those that have never been out on the stages, it's an experience unlike anything else imaginable. It's a proper rural day out, chasing around backroads trying to decipher maps before the usual rigmarole of hopping fences and gates, but once you experience the buzz of a car at full chat barely meters from your face then you can only be convinced!!
As a natural progression from the stages, drifting emerged onto my radar in the mid-00's, but then again it was people like Declan Munnelly in the green MK2 Escort that got me hooked. Here was the sideways action of the stages, nicely packaged into a compact format. Suddenly places like Rosegreen, Ennis and
Mondello
were added to the list of 'Where's Cian off to This Week'. Having been at Prodrift Europe in '08 and been in amazement at the first ever 500+ BHP car on the island (Bon Bon's Chaser), I've become less enthused about competitive drifting in recent years. The thought of a screaming 16v Corolla appeals more, but that's just me being old skool. Perhaps 2017 is the year or me to fall back in love with pro drifting?
As you may have copped, motorsport in general just does it for me. No matter what the level or the discipline, from bikes to trucks (go and watch them boys race in the flesh. Holy Moly!!) I'll be interested. I'm also an absolute nerd for racing history, so may
YouTube
history at times is like a VHS collection of 90's Touring Car Racing or 80's Rallying. When I went to
Goodwood Festival of Speed
a few years back, at one point I stood with a Tyrrell F1 car on overrun in one ear and a BDA Escort in the other. I may have wept!
The modified car scene that I've always been aware of from growing up in Cork. The roads were, at times during the good years, a venerable car spotters dream. As a Gran Turismo Era child, all manner of JDM monsters became visible, and among my group of friends we began messing about here and there working on our own cars. Although the show scene died out massively during the recession, events like VAGE become an annual staple of my calendar. Although I'd happily admit that I'm not the biggest fan, the build levels and details really sucked me into that world. Although I still doubt I'd ever have the patience to build a nice VAG car, I began to notice more and more each year. How do you cure this growing interest, era a year out of Ireland should do the trick? Where to go I asked? Ah Klagenfurt in Austria should do. Quiet, sleepy, picturesque, no discernible car scene……..bar for one month of the year, when it's at the heart of
Worthersee Treffen
, the world's biggest VAG show. I swore to the parents it was a coincidence, although study was abandoned for 3 weeks to go and sit in a petrol station. I'll put together a lookback in a few weeks!!
Going from being into cars to actually photographing cars was a complete fluke. I'd carried a small pocket camera to events the odd time for a few years, but had no real mass on the pics taken. Then in 2011, I went off one day with a month's pay in my pocket to buy a gaming racing wheel. The shop was sold out, so I bought a Nikon DSLR instead, as you do. What an expensive mistake that was!! Since then, I took more and more interest in photographing cars, studying techniques, trying out things. I'd never even shot a car alone until last year my friend Maurice Malone from
CompleteCar
roped me into his new feature series.
So being into cars has to mean being into driving cars right?? I was 19 when I Ianded home with my own wheels for the first time. 2 lessons completed, full license in hand and a few bob saved, I went all out. Siting outside the house was a bit of a dream car of mine, an AE92 Toyota Corolla Gti. A fantastic car, but of course I'd never even once thought of insurance or that lark. Turns out, having something that includes the words Twincam, 16 Valve and GTi in the title isn't the most insurance friendly when your 19!! After 4 months sitting in the shed, the time was night for my 4AGE dreams to begin, but I treated the car like a baby. I think I brought it to 4000 RPM once, I spent silly amounts of money on it over my 2 years ( Looking back, a €345 bill from Toyota just to replace Bolts, Washers, Clips and Hoses was a bit extreme) and ultimately ended up upside down in a ditch.
Between going abroad for a year and everything that entails, it was nearly 14 months before the next proper car arrived. The Puglet was found feeling sorry for itself down the very back of a dealer's yard, covered in dirt and its paint flat as a pancake. Over the past 15 months it evolved bit by bit, pats coming from all manner of second hand sources. Bumpers from crashed rally cars, interior from crashed road cars. At the height of things, I was driving just shy of 450 miles a week in a 21 year old city car, with a straight through exhaust, hardened race suspension and sitting about 3 inches off the ground. I was almost thankful to be at work some days, but give it a back road and my face would light up. I grew bored (read: weary, dishevelled or defeated) of the daily grind in the Pug, so I've gone against my hard-core, old skool mentality and now waft around in the luxury of an E46 318CI. It's just so nice, I don't even want to do silly stuff to it. I look forward to the new era of FreshFix and I hope you enjoy what I'll be sharing on the site. Look forward to plenty of Rally action from around Ireland, grassroots drifting, various shows and the best of Munster's modified cars. I have a few large events abroad that I'm planning to get to this year as well, so make sure to stay tuned for that. Here to 2017 and a new era of FreshFix. I
---