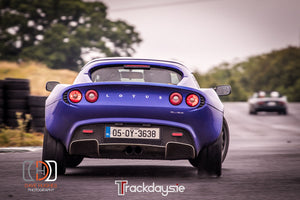 Trackdays.ie #TD14 Mondello Park Track Day Image Gallery. July 20th 2018
After more than 40 days of solid sunshine, the likes of which Ireland has probably not seen for a generation...or ever!? Most of us woke up on Friday morning to lashing rain..bloody typical! Still, it was warm and the forecast was for the rain to stop by 11ish and with high temps we were confident we'd get some dry running. With the track free from the washing effects of rain for so long and with rubber & oil from multiple drift events we expected it to be super super slippy and slippy it was, but not quite as bad as expected.
We had some really special cars out for this event, including new machines like the Cayman GT4's, Nissan GTR's, BMW 235i's and then some much older, stand-out metal like the Opel Ascona and immaculately prepared Starlet hillclimb car and mk2 Escort. We also welcomed our first visitors from the UK which was great to see!
Another new feature for #TD14 was the addition of tyre changing thanks to James at
Rowan Tyres
which went down very well and will certainly be present at future events. So you can now
pre-order your track day tyres from us online
, get them delivered to the track free of charge and have them fitted on the day. This saves you a delivery charge and allows you to get the very last bit out of your old set before you switch over to fresh rubber. The tyre fitting itself is very reasonable too and was only €10 per wheel.
The morning session provided some very challenging conditions and we all expected a load of red flags but fair play to all concerned there were really only a handful, so well done to all our drivers! By the end of the session the track was mostly dry and just after lunch it was completely dry so it was actually nice to have the 2 different track conditions during the day. Sadly the heavens opened again mid afternoon but as the afternoon progressed the track did start to dry again and there was actually a reasonable amount of grip. As always, I never manage to get round as many drivers as i'd like, to go say hello, or jump in for a few passenger laps and offer a bit of tuition if requested but I did get round a few and it's always a highlight of the day for me. Thanks to Darran O'Hara for the laps in his matching pair of MR2 race cars (which are available for the Future classics and Open Endurance racing series incidentally) I also got out in a very nice Audi TT Quattro, which was definitely the right car for the conditions and also an NC MX5 which had possibly the least grip of any car I've ever been in, thanks to some less than ideal road tyres! Driver and passenger both seemed to be having the craic though so it was all good! :)
Behind the lens we welcomed back the very talented Dave Hughes and Mikey Hynes. We'll be adding more images to this gallery over the coming days so please check back for the latest updates. Our next track day is currently scheduled for Monday 27th of August but keep an eye on our social media pages as we're seeing if we can move this to a Friday close to that date. Mondello have a track day next Sunday 29th July and we'll have our fleet of trackdays.ie Civics available to hire for this event. If anyone is interested, please give us a shout on 086 6042184. We also have the
Dyno Day
coming up on saturday 8th september. This is limited to 25 cars and we've about 10 booked in already so don't leave it too late if you want to go to this event [ngg_images source="galleries" container_ids="15" display_type="photocrati-nextgen_basic_thumbnails" override_thumbnail_settings="1" thumbnail_width="200" thumbnail_height="121" thumbnail_crop="1" images_per_page="150" number_of_columns="3" ajax_pagination="1" show_all_in_lightbox="0" use_imagebrowser_effect="0" show_slideshow_link="0" slideshow_link_text="
---