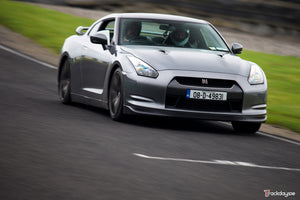 Trackdays.ie #TD06 Mondello Park Track Day Image Gallery. August 4th 2017.
#TD06 was little quieter than previous track days. September/August seems to be a difficult time of year for a lot of events, what with people being on holidays and the kids going back to school - that said we still had a full paddock with over 50 cars, which is a great turn-out for a damp Monday morning, so huge thanks to all of our customers!
It was a very grey and drizzly day which started off with a wet track. Personally I didn't hold out much hope that it would dry but thankfully I was wrong and by the time briefing was over there were plenty of dry patches. As the morning progressed the track dried even further and we got some solid, uninterrupted running. Everyone on track seemed to be having a blast, myself included! Big thanks to Philip Martin who let me have a spin in his Clio 197, a car I've always had my eye on and to Fergal Kelly for the few laps in his impressive XE powered G3 Escort rally car.
During the lunch break we had the usual DIY crisp sambo's and O'Briens platters which always go down well. As well as the food, we tried something new and had a virtual reality racing simulator to play with - Big thanks to Niall Maher for giving up his time to run it! There was a free track day up for grabs for the fastest time set at the end of the day and after a very close fought battle, Fiesta ST racer Shane McFadden came out on top.
The afternoon was wet and very very greasy with some of the slippiest track conditions I've experienced for quite a while. This meant for quite a few red flags. This is always frustrating and when conditions are that slippy it will never be eradicated completely but we are working on a few ideas to try and reduce the number of red flags for the next day - more news on that soon.
Don't forget if you want hi-res copies of any images in the gallery below you can contact
Adam O'Connor Photography
directly for pricing. Also Darran O'Hara from
99RedBalloons
can make large scale canvas prints at extremely reasonable prices, so do give the guys a shout. Bookings are now open for #TD07, the penultimate track day of the year on Saturday 21st October.
Click here to book your place now!
[ngg_images source="galleries" container_ids="10" display_type="photocrati-nextgen_basic_thumbnails" override_thumbnail_settings="1" thumbnail_width="230" thumbnail_height="160" thumbnail_crop="1" images_per_page="300" number_of_columns="4" ajax_pagination="1" show_all_in_lightbox="0" use_imagebrowser_effect="0" show_slideshow_link="1" slideshow_link_text="
---