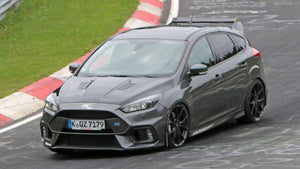 Top 5 Cars of 2017 To Look Out For
There's an absolute ton of new cars launching in 2017, the majority aren't ones we're even remotely interested in unfortunately but amongst the plethora of boring euroboxes and softroaders there are a handful that we can't wait to see in the metal – or carbon as the case may be. So let's cut right to it – In no particular order:
Ford Focus RS500
If the current Focus RS is anything to go by the RS500 is set to be an absolute cracker. It certainly looks the part anyway. Power should be up from the RS's 345bhp and weight should be down with a more stripped out interior. Production numbers will be extremely limited if past versions are anything to go on
Alpine
By summer 2017 the Alpine name will be back in Renault showrooms after a 20 year break. The Alpine will apparently feature a mid-mounted 4 pot turbo driving the rear wheels. It will have about 250bhp and weigh in at around 1100kg's making it extremely light by modern standards. Competitors are likely to be the Porsche Cayman and the Alfa 4c, so it'll need to be really good if it has any chance of success!
DMACS1
This is a bit of a curveball as the vast majority won't have a clue what this car is at all as it's a one-off drift car being built by local man Darren Mcnamara. From what I can gather it's kind of an homage to one of my favorite cars ever – the Audi S1 Sport Quattro which dominated rallying in the group B era.
The Shell is a long wheel base ur Quattro which has been converted to rear wheel drive. It has a 2.7 litre, 5 cylinder turbo motor, 6 speed sequential box and loads of custom fabrication to make the thing work properly as a drift car. So the car should look and sound more or less like the old school rally cars and I for one can't wait to see it finished!
Toyota Supra / BMW Z5
Ok so this is possibly going to be the biggest let-down in terms of concept vs reality as the
F1
concept Toyota released was simply spectacular.
However, the reality will still be a new front-engined, rear-drive sports car so whatever it ends up looking like we're going to be pretty happy to be honest. The platform is being shared with BMW and the Z5 will replace the Z4. The BMW version is rumored to be a drop-top and the Toyota a hardtop coupe body style. You'd have to expect a straight 6 to be on the cards as well with the BMW tie up.
F1 2017
Another car you can't buy but F1 in 2017 has finally taken a step in the right direction, in terms of visual appearance if nothing else. Year after year F1 cars have got uglier and uglier due to regulation changes that only consider function over form. To be honest they still don't look great but the new fat rear tyres and wide, low rear wings are a huge improvement. Now if they can just make the racing exciting enough so that I can stay awake through a full race we'll be laughing!
---