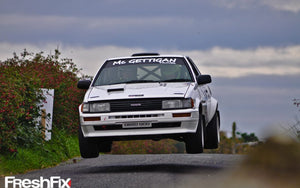 This Is Irish Rallying 2016
Things happen in Ireland happen every day of the week that we never hear of. Events slip by without a single sliver of coverage, yet enjoyed immensely by those involved. It's an Irish thing, and any bit of driving around the country you'll find plenty of signs and posters for a plethora of oddball gatherings. But how is it that there are events going on nearly every weekend, all over the Island, attracting thousands of enthusiastic followers and competitors willing to rack up huge costs in expensive cars solely in search of excitement, yet most have never heard of it?? Welcome to Irish Rallying!
The year, for me at least, kicked off in Galway in mid-February. The traditional season opener for the Irish Tarmac Rally Championship (ITRC), the country's premier series, Galway is renowned for being the first sighting moment for all manner of new cars and crews. This year was different!! Not only did we see the start of a new season, but also the start of a new Era in Irish Rallying. Over the winter, Motorsport Ireland had decreed that 2016 would see the rise of the R5, the chosen top line category for the championship moving forward.
Until now, WRC's had ruled the roost in Irish rallying for the past 15 years. Looking back over previous title winners, the roll call of Subaru Impreza's and Ford Focus WRC's victories was stunning, but it was becoming too much. Expensive to run, both the older 2L cars and more modern 1.6L
equivalents, and scarcer at big events, the powers that be decreed that the latest R5 spec cars were to become the shining beacons.
An R5 car is, in all regards, a very serious piece of kit. Based on road cars, rules stipulate a 1.6 Turbo Charged engine pushing upwards of 280BHP, Four Wheel Drive, massively uprated suspension and much more. The difference, when parked next to a WRC car, is not inherently noticeable, but it's the part sourcing, and cost saving where the true difference lies. Rather than having a car packed full of very expensive, very bespoke parts, R5's use a lot more off the shelf components and as such running costs are lowered. But would the gamble work?? Absolutely. For the first time in years, we saw a true battle for the title across nearly a dozen top drivers, which ultimately went down to the final round. Added to that, it was brand new cars out there pushing hard on the stages such as Ford Fiesta's, Citroen DS3's and a few Skoda Fabia R5's.
But back to Galway. I still feel wet thinking back to that weekend. Saturday was like a battle scene. Car after car wheeled off on the back of trailers each in a worse state of destruction. We had leaders in ditches, hard chargers ending up on their roof and all manner of slipping and sliding in between.
And then Sunday brought the deluge. I don't remember ever being out in such conditions. Access roads began to flood, yet the rally went on regardless. And who better to send out in such awful conditions then the Juniors. A separate section on nearly every rally, and something I'll be looking into more deeply soon, the Juniors is a shortened rally designed to get younger competitors involved in the sport. Cars are capped at 1.6L, driver's age at 26, and basically, everything else goes. It has slowly become a parade of fast charging Honda Civics of late, although we've seen some noticeable exceptions.
Next up was the traditional Paddy's Weekend trip to Clonakilty for the West Cork Rally. Ever a crowd favorite, and a recent addition to the Tarmac championship, the West Cork is just a string of some of the most iconic stages and locations in Irish rallying. Ring Village, Ballinglanna, Ardfield etc. While the World Cars may have been excluded from scoring points in the championship, it didn't stop their owners from competing. For a record breaking third time in-a-row, it would be Donagh Kelly tasting champagne aboard the Double Decker bus in Clonakilty come Sunday evening.
Over in the National Championship, though, the WRC car still reigned supreme. A series of one day, smaller events, the National championship has blossomed of late with massive entry lists and fantastic stages. One of those mounting a serious early charge on the National was the ever flamboyant Gary Jennings in his distinctive Subaru Impreza S12 WRC.
By the time May came about, Killarney was awash with the sunshine, and my clothes and camera were peppered with dust and stones. Rally of The Lakes is a name that resonates across car scenes, and although perhaps we don't all trudge South solely for the rally, it's hard to match the buzz around the town for the weekend.
For those standing out though, there's always a certain vehicle that both creates smiles and scratches heads almost everywhere you go. The Ford Escort MK2. Once a venerable grocery getter designed by Ford as an everyday car in the 1970's, the Escort has become a staple of the rally scene, none more so than here in Ireland. One of more extravagant exponents of the sideways style adored by fans is Liam Howlett. You don't get a Hitler Subtitle video or a song dedicated to you by being quiet behind the wheel. This year would see Liam never mind finish the Lakes (there were commemorative t-shirts to mark this fact) but steer Big Red to third overall in the Modified section. He promptly returned to form and crashed soon after, and again, and again!!
But Killarney had been a lot damper only a few weeks previously when we old school rally geeks got an Easter treat. I've grown up fascinated by tales of the Circuit of Ireland. A distantly related event bearing the same name ran as part of the '16 ITRC, but it was the true 'Circuit' from the 70's and 80's that has me up at all hours watching grainy videos on YouTube. Back then, the circuit was not merely a title but a description. The event ran for 5 days, often with little rest, and saw crews tackle stages right around the country. And it was massive!! International superstars became legends as they tackled Irish lanes. As a chance to look back at the glory days, Circuit déjà vu brought together a plethora of rallying's legendary names and cars for one hell of a special day.
It's not every day you stroll into a coffee shop in rural Kerry with a priceless Porsche Carrera sitting at the door. As you make your way in, you have to excuse yourself as you brush past Paul Nagle, Citroen Works Co-Driver for Kris Meeke, discussing the Monte Carlo Rally with none other than 1964 winner Paddy Hopkirk.
As you queue for a coffee, it's becoming almost surreal as standing right in front is none other than 5-times British Rally champion, and father of the late Colin, Jimmy McRae.
And then to cap it off the only spare seat in the house is at a table with Billy Coleman who's just given a display in sideways driving in his '74 British Championship winning Escort up Molls Gap less than an hour beforehand. A man that could have taken on the world yet chose to farm instead.
Returning from Dreamland, and the events continued to roll by thick and fast. As the ITRC completed its northern loop of events, Donegal, The Circuit of Ireland & The Ulster, I was out closer to home. The Imokilly club in East Cork has grown enormously over the last while. Evolving from hosting a RallySprint in the Cork Mart a few years ago, they now play host to one of the more competitive Mini-Stages events in the country. A non-championship event, these rallies are a chance for the clubmen to really go out and enjoy their local stages without the pressure of the big guns at the head of the field. Its club man level events like this that provide the lifeblood to Irish rallying, and are a real proving ground for anyone with aspirations of moving up the ranks.
An added bonus for this event was their ability to attract two of possibly the country's crowd favorites, Frank Kelly & Declan Gallagher, to give their co-driver seats up for charity to raise funds for a very worthy local charity. This certainly wasn't just a fun run though as the Milkman (Gallagher) came home 2
nd
overall with rookie co-driver Shane O'Mahony.
The main championship came down to a final battle royal around the stages of Cork as 4 drivers came to the '20 with hopes of walking away with the Tarmac crown. First to wilt was Alistair Fisher. Coming in as point's leader, Fisher lost control on the last loop on Saturday seeing both his Fiesta and title ambitions turned upside down.
Another pair of contenders would be the Moffett brothers Sam & Josh. Each pushed right to the very last, aided by both sibling rivalry and determination to grab the title. Josh ended up taking the rally victory, but results elsewhere just didn't fall right for his title charge. As a reward for his hard charging all year, Josh Moffett took home the Billy Coleman award for Young Rally Driver of the year.
But alas, it was the quiet man from Ballylickey that ended the year as Irish Tarmac Champion. Keith Cronin had a mixed year with some stunning championship victories peppered with crushing lows as the title lay in the balance. Seeing his main rival Fisher drop out on Saturday, the 3-Times BRC champion had the required cool head to get his DS3 R5 home safely and secure the tarmac crown.
With the two main titles secured, Roy White taking the National crown in his Fiesta WRC, the Donegal Harvest rally was a chance for the local RWD crews to have some fun. Although every rally sees its fair share of spectacular Modified action, its seems to be Monaghan and Donegal that really ramp this up to the last. The Modified's are home to the wild side of Irish Rallying. Race engines push once humble every day cars to unbelievable speeds. Engine sizes are capped at a maximum of 25% larger than original, so the 2.5L Class 14 is the zenith. Builds regularly top €80,000, while every last inch of performance is squeezed out with all manner of upgrades allowed.
Twin Cam Corolla's, normally associated with marking cross roads at events like Killarney or Donegal International, really have a warm place in Northern Rallying. I'm sure I lost count at about 9 or 10 of the Toyota coupe's out talking the Harvest Stages, although it was the McGettigan brothers who were really on a charge all day, both on road and occasionally when taking flight.
The Harvest also gave me, in particular, the first glimpse of John Mullholland's incredible 1.3L BDA engine Escort. When people call things a screamer, it can generally be debated. But an Escort coming down a country lane at nearly 10,000 rpm is something that still gives me a fizz.
The last event for me anyway in 2016 was actually the first event of 2017's championship bizarrely. Aimed solely as Ireland's only Historic rally, Killarney plays host in early December to a dazzling array of older rally cars. Split into two distinct parts, the first cars you get to enjoy are the true Historic spec cars, built to the same spec as in their heydays of the late 70's, complete with screaming BDA's.
The other side of the event is a chance for some of the country's fastest Modified rally cars to really come out and play. The Modifieds is where you'll find Escorts that in the right conditions could outrun World cars, Millington engines, cutting-edge technology all wrapped up in 30-year-old bodies. It's truly glorious.
Add in the beauty of having Irelands only night stage and Killarney Historic is a special way to end the year. It's an absolute nightmare to photograph, but by god its one hell of a cool sight to witness.
So that's my little look back at the 2016 rallying year. The next 12 months has plenty instore and I'm looking forward to another year hanging off ditches and hopefully, I'll give ye an insight into the mad world of Irish Rallying.
[ngg_images source="galleries" container_ids="9" display_type="photocrati-nextgen_basic_thumbnails" override_thumbnail_settings="0" thumbnail_width="160" thumbnail_height="160" thumbnail_crop="1" images_per_page="50" number_of_columns="3" ajax_pagination="0" show_all_in_lightbox="0" use_imagebrowser_effect="0" show_slideshow_link="1" slideshow_link_text="
---