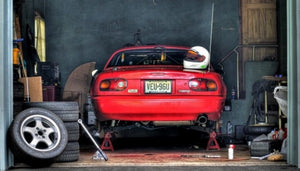 Rob's Car History Past & Present
By way of an introduction and rather than telling you how I enjoy reading and long walks in the country or whatever else people put in bio's I though i'd just post up my car history. If you're a died-in-the-wool car guy you'll probably get a much better idea of who I am that way anyway! Like a lot of petrolheads of meager means my car history is interspersed with some gems is but largely made up of cheap, mediocre turds - usually a necessity whilst waiting to buy the next cool thing... or while paying the price of the last cool thing! Here goes:
998 Austin Mini (field car)
My first ever car, bought from the scrap yard for £50. Bolted on a loud exhaust and blasted round the field behind my house all summer. Despite 10 acres to play with I Still managed to crash it into the wall of the field!
998 Austin Mini
My first road car. It only cost £350 and looked like it only cost £350 too! Still I thought it was the best thing ever. It got some 10" minilite alloys and straight-through exhaust
Ford Escort Diesel estate
1.8 Non turbo – possibly the slowest thing I've driven!
Peugeot 106
1 litre. Second slowest car I've driven, but First car that would do over 100mph! Only downhill though
1300 Austin Mini
This thing was my first modified car. It had wide arches, 13" revolutions, adjustable camber arms and rear trailing arms, Full Janspeed exhaust and alloy inlet manifold. I ported & polished the head myself which worked really well except for the fact that it used to chew through head gaskets. Must have changed it at least 10 times – learned loads with this car.
Peugeot 205 gti 1.9
Loved the way this car looked but was disappointed in every other way. It was rattly, flimsy, not that quick and it didn't even sound that good. Still thought I was the dogs danglies driving it round at 19 or 20 or whatever age I was at the time
Ford Escort Saloon
Blew up on the way home from the dealer – no oil. Got my money back and bought the Rover
Rover 400
Proper old mans car but actually had decent performance
Suzuki RG125
First bike, little 2 stroke screamer. Great fun. Smokey as F**k
Honda VFR400
One of the best looking bikes out there. Single sided swing arm, proper race replica. Sounded awesome too and was properly quick compared to all the cars I'd owned to date. Sadly the VFR got knicked and that was the end of my biking career.
Audi S2 Quattro Avant
This has to be one of my favourite cars I've owned. The S2 is the quick version of the Audi 80. It has 4 wheel drive and the awesome 2.2 litre 5 cylinder Turbo motor out of the original ur Quattro. Mine was remapped to about 280bhp and lowered. It was really quick and sounded incredible! Wish I'd kept it, they're worth a fortune now!
Mk 4 Golf
Used more oil than petrol.
VW Jetta
Deadly car. Bog standard 1.6 diesel, non turbo. Never have I had so many people offer to buy a car off me as this Jetta
Audi A4 Avant
Remapped 1.8 turbo, had this one for quite a while. Quick enough not to be too boring a very practical
Audi A3
Nice, modern, but ultimately Forgettable
Westfield Hayabusa Turbo
Insane. Quickest thing I've driven. 350bhp at the wheels and a shade under 500kg's Started life as my daily driver with a 1.8 Ford Zetec motor which I rebuilt with Dunnell stage 2 head, cams and twin Weber 45's. Did a few track days and hillclimbs and gradually ended up as a track-only car with the bike engine conversion, 10" slicks and no windscreen, roof or doors
Mazda MX5
Standard mk1 road car. Should have hung on to this one
Davrian Solo Stiletto
This is a race car from the 70's/80's modsports/silhouette era. It was based on the Hilman Imp/Sunbeam Stiletto but had a fibreglass and aluminium honeycomb monocoque built by Davrian cars. Rear engine and super light weight at 450kg's!
BMW E39 525
Meh. Nice engine
Peugeot 206 GTI
Big engine, 180bhp, small car, great seats. Shite everything else
VW Polo
Cheap!
VW Passat
2 litre tdi bluemotion with the DSG box – you couldn't find a more perfect family wagon.
EK Civic Race Car
Current Trackdays.ie Hire car. Loud. loads of grip. Great car to learn in. Good craic!
---