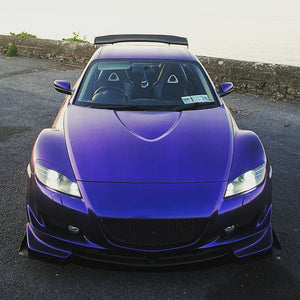 Readers Ride : Dipped Rx8
Welcome to the first of our reader's ride. If you want to showcase your car you can email us at Hello@Freshfix.ie or you can drop us a message on our
Facebook page
. Here we have this cadbury purple Mazda Rx8 which belongs to John Panda Mc Guinness. When I first asked for people to send in some cars this bright purple rx8 stood out in our inbox. Along with the photos, I got a link to his
project thread
- which you can also check out. This car started off silver with the standard wheels sprayed black and slowly but surely he really got stuck in to making changes.
All the bodywork has been carried out by John himself. If the finish was not done perfect the first time the paint was peeled- yes peeled back and prep started again. You see the thing is that John's car is not spray painted, its
plasti dipped
.
One of the best modifications for the RX8 is to change the exhaust and John done just that replacing the original with a
Toyosports
cat back. Choice of alloys was the
XXR 526 man, front are 9j et20 and rear's are 10.5j et20.
Aggressive aero has been added by John which includes front and rear diffusers and the massive wing you can see sitting on the rear boot lid. John has the option of two boot lids running two separate spoilers depending on what style he wants to run with.
We looking forward to seeing what will be next for John and his Rx8. Until then
---