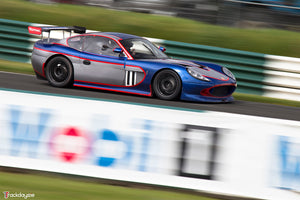 Trackdays.ie #TD04 Mondello Park Track Day. May 15th 2017. Image Gallery
We were expecting a fairly low turnout for our fourth Mondello Park track day of 2017 on May 15th, what with dire the weather forecast and it being on a Monday. As with the last time there were also trackdays on the Friday and Saturday prior to ours so we have to extend another heartfelt thank you to all of our customers both new and old who joined us and made #TD04 great success. In the end we had our highest turnout ever with 70 cars in total taking part throughout the day! It seems the trackdays light is on and shining brightly for the masses!! The weather in the morning was atrocious and it lashed pretty much non-stop. However, during the lunch break the rain stopped and strong winds started to dry the track very quickly. Within half an hour of the afternoon session starting, the track was all but dry and it stayed dry for the whole afternoon which was a well needed pick-me-up after frustrating morning for some.
The on-track conditions in the morning were the slippiest I've experienced in some time, so much so that both new and experienced drivers were being caught out on a regular basis. As a result, drivers outbraking themselves and ending up in the gravel caused quite a lot of red flags and as I mentioned, a fair bit of frustration. Unfortunately there's not a huge amount we can do about that other than remind drivers just to back it off a little in the braking zones in these kind of conditions and of course to remind everyone that we do offer free tuition at every event in an attempt to keep the driving standards up. Ultimately you guys are in control of your cars and keeping it on the black stuff is up to you. The afternoon was a different story, with a drying track and the sun shining, the mood was up, the lap times were down and the day flowed well. The selection of cars was possibly our most varied yet with full-fat race cars like Nicole Drought & Conniare Finn's Ginetta G50 right the way through to Nissan Almera's.
Again there was a great mix of new and returning drivers which is great to see as we continue to attract new converts to the track day scene. Images are with thanks to our official photographer Adam O'Connor For hi-res, non-watermarked please contact Adam directly via his
facebook page
. For large scale canvas prints please contact Darran O'Hara at
99RedBalloons.ie
[ngg_images source="galleries" container_ids="7" display_type="photocrati-nextgen_basic_thumbnails" override_thumbnail_settings="1" thumbnail_width="230" thumbnail_height="160" thumbnail_crop="1" images_per_page="50" number_of_columns="4" ajax_pagination="0" show_all_in_lightbox="0" use_imagebrowser_effect="0" show_slideshow_link="1" slideshow_link_text="
---