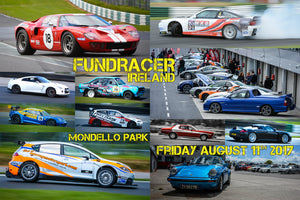 FUND-RACER Ireland Track Day: Mondello Park Friday 11th August. In Aid of The Jay & Ellie Foundation
Fund‐Racer Ireland
Charity Track day – Friday 11th August 2017, Mondello Park
In aid of The Jay & Ellie Foundation
Dublin, Ireland | 11 July 2017: Announcing the fifth annual Fund‐Racer Ireland charity Track‐day, which takes place in Mondello Park, were Jay and Siobhan O'Reilly, proud parents of children, Jay and Ellie, who live with Autism on a daily basis. The only event of its kind, this event highlights the continued need for Autism support services while raising a significant amount of money and providing a fun day out for all the family.
Highlights
80+ Supercars, Racing Cars, Sports Cars, Rally Cars and Drift Cars
Professional Racers
Passenger laps in the 740bhp four seater Stone Motorsport Drift Taxi
Irish Touring Car Championship and SEAT Supercopa demonstration
Passenger laps can be purchased in a range of cars on the day
D.J. & Family entertainment/participation throughout the day
Commenting on the announcement Jay and Siobhan said; "We are the proud parents of two amazing children, Jay and Ellie, who live with Autism on a daily basis. The support we have received has improved the quality of the kids' and our lives exponentially. We want to give back something, all kids love fast cars and so can't think of a more fun way to do it."
About Fund‐Racer Ireland
Fundracer was started in 2013 to help raise funds for autism awareness and The Jay & Ellie Foundation. We invited a number of people from all walks of vehicle life including Supercars, Race & Drift cars. The variety of cars was amazing and the professionalism shown by those that participated was fantastic. We raised over €17,000 from that first event and over €75,000 to date. The format is an open track day, with two main sessions, one in the morning and one in the afternoon. We also have two dedicated sessions for passenger laps in supercars, sports cars, drift cars and cars from the Irish Touring Car Championship among others. We will also have a display area with a number of cars on display that won't be taking to the track for spectators to look around. This year we have a large number of Ferraris, Lamborghinis, McLarens, professional Rally & Drift cars, and a couple of surprises.
Stone Motorsport will be bringing their 740bhp four seater drift car where drift fans can experience the thrills of travelling around Mondello mostly sideways with a professional drift driver at the wheel. It's a family event so we have music playing all day, food will be available from the Mondello restaurant and we will have an ice‐cream van too! All the garages are open and we run the pit lane so the spectators can get up close to the cars, get their picture taken, see how a race car works etc. We had a great turnout of spectators last year and this year should be even bigger. Spectators are free; we raise money by charging €250 to enter a car, people can also display their car if they don't wish to track it. The organising committee and sponsorship pays for all operational costs leading up to and including the day, so every penny we take in is given to the charity directly. More information about Fundracer can be found at
www.fundracer.ie
What is Autism?
Autism is a neuro‐developmental disorder that affects the development of the brain in areas of social
interaction and communication and is marked by severe difficulties in communicating and forming relationships with people, in developing language and in using abstract concepts. Characteristics include repetitive and limited patterns of behaviour and obsessive resistance to tiny changes in familiar surroundings or routines. Autism is often referred to as the 'hidden' disability because people who are on the autistic spectrum show no significant physical difference to their peers, rather it is their behaviours that mark them out as different. The 3 main areas of difficulty for people with autism are referred to as the 'triad of impairments'.  Social communication  Social interaction  Social imagination Although not included in the triad of impairments, there is a fourth area which has been identified as presenting people with autism with significant difficulties and that is the area of sensory processing. Sensory processing difficulties are indicated by either a hyper or hypo‐sensitivity across any or all of the 5 senses. The first signs of autism usually appear as developmental delays before the age of 3. Autism is described as a 'spectrum' disorder. This means that the symptoms and characteristics of autism can present themselves in a wide variety of combinations and can range from mild to severe. Two children with the same diagnosis can act very differently from one another and have varying skills. As stated above, the numbers of those diagnosed with autism is rising. In a recent briefing the National Autistic Society in the UK confirmed that the condition now affects 1 in 110 children in the UK. The prevalence study for Ireland is almost complete and the results will be announced shortly. Although it is widely maintained that the increase in incidence can, in part, be attributed to better diagnostic procedures, it is apparent that the condition itself is growing worldwide. Research into autism and genetics has shown autism is genetically pre‐ determined however research is on‐ going to determine to what degree environmental 'triggers' may be involved in the increase in incidence. What we do know, in Ireland, is that the number of young children coming into the system each year is significantly greater than in the past and that the demand for services to meet the needs of this special population will continue to grow. Autism is not a mental illness. Autism is not caused by 'refrigerator mothers' who either consciously or subconsciously reject their children, nor is it caused by bad parenting. Autism is not an indication of genius. A small percentage of autistic people are autistic savants who do have incredible talents. Most autistic people are not so gifted. Children with autism are not unruly kids who choose not to behave.
Contact:
Fund‐Racer Ireland Jay O'Reilly +353 86 8283361 info@fundracer.ie
---