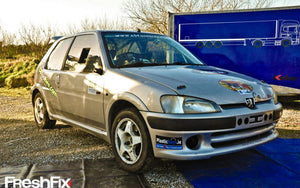 Eric Calnan And The Giant Killing Peugeot 106
Us Irish love a good underdog story. It's in our nature that we just adore the thought of David sticking it to Goliath. Tales of heroics live long in the memory and are often recounted with a wistful smile and a stirring pump of a fist. A call of 'Go on ya Boyo' is never far away in these instances. Irish motorsport is a venerable treasure chest of people sticking it to the man. For years, Eddie Jordan took on the might of F1 paddock, and occasionally won. In 1974, a Cork farmer by the name of Billy Coleman beat the might of the works teams to become British Champion, in a car run from a rented terrace house and a band of friends as crew. Frank Meagher became a household name in the 80's and 90's as he topped lead boards in his ratty old MK2 Escort. Those were the glory days, but the have-a-go heroes are still out there,Eric Calnan is one of them heroes.
Junior rallying, as the title suggests, is an avenue designed to attract younger drivers into the sport. Conceived in the early 00's, the idea was to limit the cars to 1.6L, driver age to 26 and provide a shorter route to keep costs down. And it has been a success. Countless drivers have come through the ranks and gone onto bigger things in the sport, while the competitive nature of the championship has seen some incredibly close battles down the years. But competitiveness comes at a cost. It's a natural thing, winning becomes everything!
The loose nature of regulations left the door open for things to spiral. To remain competitive, builds and components became more expensive. The humble Honda Civic is the de-facto Junior Rally weapon of choice. We all see decent Civic track and road builds on a daily basis, but the rally boys are on another level. Trusty B16 engines are hitting dizzying VTEC assisted levels of 200+ BHP. Sequential gearboxes have become normal, as have fully adjustable suspension and all manner of trick bits. Builds topping €40000 are not uncommon. But surely nobody can compete with that??
The rise of Eric Calnan in 2016 was like a breath of fresh air in Junior rallying. Here was a tatty looking 106, built in a shed at home, with an outlandish spoiler coming to upset the status quo. Built for about a quarter of the price of some of its competitors, the 106 and Calnan really began to rattle some feathers. Fastest through Ballaghbeama at the Lakes was a warning shot, but things were only starting. Victory at Imokilly Mini Stages was backed up weeks later with a stunning last grasp snatch and grab at the Cork20 Junior Rally. 12 seconds down sitting on the start line of the final stage, the diminutive Peugeot scorched to a 1.6 sec victory. Internet flame wars erupted as people scratched their head at just how Eric pulled the time out that day. It was these sort of heroics that began grabbing attention. A dominating display on the Fastnet rally really cemented a fantastic season, taking a massive 26 second lead on the 1st stage and controlling the rally to chalk up yet another victory . A Billy Coleman Award nomination followed, while
Motorsport.ie's
recently published list ranking 2016's top Irish rally drivers ranked Calnan at No.6 among some very illustrious company.
But what is it about this car and driver pair that make them so quick? Calnan naturally lays all the success on co-driver Aileen Kelly. Cousins, the pair only began sitting together his year and things have really paid off. Watching any on-board's, Eric's mad man nature is balanced by Aileen's calm and steady delivery of the notes at all manner of kamikaze speeds. Rallying is very much a team sport, with the driver leaning massively on the Navi to describe the road ahead and keep on top of necessary paperwork and time cards, but having an all-out, maximum attack driving style and distinct lack of fear certainly is an added bonus. But every hero spec warrior needs a chariot.
Approaching the silver 106 GTI up close, the battered exterior is a sign of a car that's had a tough campaign. It's not a neglected car, but it just goes against the shiny, polished nature of those around it. Straight panels, or even wing mirrors in this case, make no difference when it comes to launching yourself down a rally stage. It almost seems like a ruse to put people off, perhaps guide them away from the potency that lies beneath. It's perhaps a reflection of the man himself, that the desire to find that extra tenth is far greater than looking good on the start line. Small marks here and there act almost as war paint, carried as a warning to others. A scrape from a chicane here, and dent from a tire wall there, it's all part of the appeal.
Under the bonnet is where things really get interesting. A Citroen JP4 engine sits proudly in the middle of the bay. Hand built by Calnan over the winter, his engineers touches are seen all over. Clever little tips and trick are seen in the desire to wring as much power from the 16 valve lump, from a redesigned head to a custom manifold. Anything non-essential has been removed in the quest to save weight, but it is the set of GSXR throttle bodies sitting nearly flush with the firewall that certainly grab attention. In typical Calnan fashion, checking even basic things like having room for a wiper motor were secondary to performance, but thankfully finding a LHD unit sorted that issue. Pumping out slightly more than 160 BHP, this is a very quick 106, yet it still gives roughly 40/50 BHP of an advantage to the opposition.
Power is delivered to the front wheels through a 5 speed box and limited slip differential, again built by Calnan in his shed. Bilstein suspension helps to deal with the rough and tumble of a bumpy rally stage, while the solid Torsion Bar rear end is helped greatly with Team Dynamic shock absorbers. Braking, if ever relied upon, is taken care of with Carbone Lorraine pads and Brembo disks front and rear. For true maximum attack, a Hydraulic handbrake is on hand and is clearly not there for show as becomes obvious watching Calnan flying around the Watergrasshill track.
Plastered both front and back is the battling cry #anythingbutacivic. An obvious tongue in cheek gesture towards the opposition, it's a message that's resonated around Irish rallying, and one spotted on a growing number of other cars. As with any sort of race car though, having other names plastered on the side of the car helps massively in getting a budget together to go out and compete. Colin Byrne (CB Tool Hire) and Donal O'Brien (Donalobriencars.ie) have backed Eric from the start, along with a number of other local business, and without support like that many would get nowhere in motorsport.
Inside is typical rally car, where function takes priority over form. A pair of beefy OMP seats keep the crew held in place snugly, while a custom weld in roll cage keeps safety in check. Everything here is dictated by FIA regulations to help protect the crew if anything was to ever go wrong.
Plans for 2017 are still undecided for Calnan and the 106. A crack at the Tarmac Junior Championship is a very real option, although it includes a couple of long treks up the country to Donegal and the Ulster rallies. The '17 season see's M-Sport launching its own entry level championship in Ireland, the R2 National, which is aimed as a first dip into the world of factory built International level machinery for those with aspirations of going down that avenue. A promising development for younger drivers, it unfortunately remains out of reach financially for a large number of drivers, Calnan included. Money and rallying will always go hand in hand, and to get anywhere you need a lot of it. But Eric Calnan is a reminder that the underdog is still alive, sticking two fingers up to the big boys and having a damn good time and enjoying rallying!
Full Spec List:
Engine:
Citroen TU5 JP4 1600cc 16v P&P Head (Homemade) K1 GSXR1000 Throttle Bodies Custom inlet manifold ported to match head (Homemade) Hayabusa/GSXR Injectors RamAir air filter 106 Cup Car Cams Custom Stainless Exhaust manifold (Homemade) Pugsport 2" stainless exhaust
Gearbox:
Standard Peugeot MA Gearbox with uprated bearings. Gripper LSD S1 Rallye Final Drive Custom Gearkit Paddle Clutch
Suspension:
Front: Bilstein B8 Shocks AST Adjustable camber top mounts Interchangeable spring rates/lengths Rear: Team Dynamic 2-way adjustable shocks
Brakes:
Front: CL RC6+ pads and brembo discs Rear: CL RC5 pads and brembo max grooved discs Hydraulic handbrake & Bias Valve
Chassis:
Full weld in cage with extra bars Strut top strengthener plates & Strut brace LHD Wiper conversion Lightweight shell (prepped by Eric) Walbro Intank High Pressure Fuel Pump 6mm aluminium sump guard (Homemade) Seats/Harnesses/Extinguishers to comply with FIA international regs. With Thanks to: Jonathon Trill (
TM Valeting
), Shane Fitzgerald (
EVOSigns
), Denis O Connell (extremely patient man that helps Eric make good looking stuff).
---