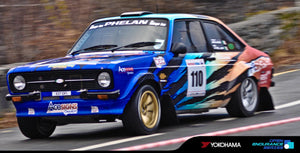 2018 Open Endurance Series
Trackdays.ie co-owner Rob King has taken on an extra challenge for 2018 and that is the set up running of a brand new racing championship in Ireland called the OPEN ENDURANCE SERIES. The new endurance series is open to virtually all closed-wheel cars and might be of interest to a selection of our track day customers keen to get involved in Motorsport. Visit
www.openendurance.ie
for more info or read on.....
What Is It?
The Open Endurance Series offers an exciting and unique race format in Ireland for 2018. The series consists of 7 rounds, 5 of which are 50 minute endurance races and 2 of which are 15 minute sprint races. The endurance races feature a mandatory pitstop which can include a driver change, giving competitors the option of shared or solo drive.
The exciting new format will offer
More seat time & better value for money
Less time away from home
Less down-time
A wide variety of exciting cars including saloons, rally cars, sports & GT.
A test of strategy, teamwork, mental and physical endurance.
Winners prize fund
New opportunities for media, marketing, social media interaction & sponsorships
Who Can Take Part?
The series is open to an extremely wide variety of cars, including many that currently have no championship in which they can compete. The regulations are open and designed to put as few barriers to entry in place as possible. We want full grids of exciting, high quality cars. To ensure the speed differential between the fastest and the slowest cars on the grid is not too great, a minimum entry time of 1.07.00 on Mondello's National circuit or 1.12.00 at Kirkistown must be met.
Classes:
The Open Endurance Series is open to all closed wheel saloon, sports, GT, sports libre, sports racing and rally cars complying with Motorsport Ireland regulations. The classes are categorised as follows:
Saloon Cars up to 2000cc
Saloon Cars over 2000cc
Seat Supercup Cars
Sports, GT & Invitational
Cars using forced induction will have their engine capacity multiplied by a factor of 1.7 as per MI Yearbook 2017 Apendix 54, article 6
Race Format:
15 Minute qualifying session followed by a 50 minute endurance race with rolling start. (if double driving both drivers must complete a minimum of 3 laps within the 15 minute qualifying session)
During the pitstop:
If double driving, the driver change over must happen. The driver may be assisted by one team member.
If solo driving, the driver must exit the car and then get back in again. The driver may be assisted by one team member.
The car must be stationary, with all 4 wheels on the ground while the driver change is taking place
No work may take place on the car while the driver change is taking place
No refuelling is allowed
No tyre changing is allowed unless for wets/dry's
Registration:
To score championship points competitors must register for the Series and pay the €100 registration fee.
You can register for the championship online and pay the registration fee here
Entry Fees:
Mondello Park: €425 – 20 min Qualifying + 50 min race (€212.50 if double driving)
Kirkistown: TBC
Bishopscourt: £330 (€372.90) – 30 mins free practice + 20 min Qualifying + 50 min race (£165 (€186.45) if double driving)
Drivers entered into sprint races at Bishopscourt on May 12th/13th who also want to enter the endurance race can do so at the reduced rate of just £130 (in addition to their standard £250 entry fee.
Tyre Usage: The Open Endurance Series is supported by Yokohama Tyres and an attractive incentive to use Yokohama tyres will be put in place either by way of a discount, reward or voucher. For year 1 the option to use any tyre brand is available to all competitors, the only stipulation is that no other tyre manufacturers branding should be displayed on the car. For year 2 it may be a stipulation that to register for championship points, Yokohama Tyres must be used. The SEAT Supercup class are restricted to the use of 2 new tyres per weekend. All other classes are free.
2018 Race Calendar:
More Info:
For more information see
www.openendurance.ie
or contact series coordinator Rob King @ rob@openendurance.ie or call 086 6042184 You can
register to race online by clicking here
---