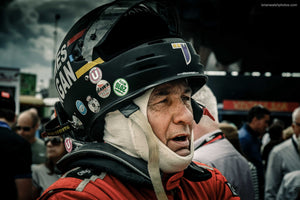 Car Track Day Helmets
We frequently get asked questions about track day helmets and safety equipment in general, which is understandable because most car track day newcomers won't have any of this stuff, so it's an obvious concern. I think the perception, having watched any form of Motorsport is that you need the full Power Ranger suit, helmet, gloves, boots and fireproof undercrackers but with trackdays in Ireland and the UK that isn't the case, you simply need a crash helmet. At trackdays.ie we hire helmets and we also sell them.
Click here to visit the racewear section of our
shop
The rules around safety equipment at trackdays are fairly relaxed because the risks are so much lower than a race, for example. For that reason, at a track day you don't need a crash helmet with any specific
approvals which helps to bring down the cost. So if you're new to track days and don't have a helmet here's a few things to consider before you dash out and buy, beg, borrow or steal one. Also, if you're new to track days you should go check out our
Beginners Guide,
the
FAQ
and the
Top 12 Track Day Do's & Don'ts
- have a mooch around the rest of the
track day information
section too, there's loads of useful stuff there
Types of Helmet
There are two basic types of helmet. The open face and the closed face. Open face helmets tend to be a bit cheaper because their construction is much simpler and they don't have a visor or chin protection. Generally speaking they're only recommended for use in cars with closed cockpits, like a normal saloon car for example. An open face helmet wouldn't be ideal to use in an open wheeled car like a single seater or even a Caterham as they don't offer protection against flying debris. Open face helmets do offer better peripheral vision and feel a lot less claustrophobic for those not used to wearing them, they're also a lot cooler to wear simply because they allow unrestricted air flow to your face. Full face helmets tend to cost a bit more, they're hotter to wear, restrict the vision a little more but offer the most protection. They're also more versatile as they can be used in any type of car or motorbike.

Track Day Helmet Hire
If you're new to track days, understandably, you might be reluctant to rush out and buy a helmet - what if it turns out they're not for you at all? then you'll be stuck with an expensive lid that you've no use for! For the very first time borrowing or hiring a helmet is probably a good idea. We have track day
helmets for hire
at all of our events. The cost is just €20.00 with a €30.00 refundable deposit which can be paid on the day. The most important thing with any helmet though is to make sure it fits correctly. It should be a snug fit, with no movement on your head.
Click here to reserve your helmet for the next track day
2nd Hand Helmets
If you're pretty sure track days are for you, or you just don't fancy sharing someone else's sweaty lid then you'll want to go and buy one. If you're thinking of spending as little as possible, DoneDeal or Adverts will have plenty of cheap track day helmets for sale, but a word of caution: helmets are designed to absorb 1 major impact, after that they will not offer proper protection and should be discarded, even if they've been dropped they can be rendered useless, so pay very close attention to the condition of the outer shell and walk away if there are any signs of damage at all.
New Helmets
If you've no intention of getting involved in Motorsport in the future then you can purchase a helmet without FIA approvals. These start at around €80.00 (you probably won't find a decent 2nd hand one for much less though) and
can be picked up in our shop
. The benefits of buying brand new are of course, no one else's sweat to deal with, no concerns over damage and you can try on multiple sizes to find the perfect fit. If you think you might like to get your competition licence at some point in the next 7 or 8 years then you should consider getting a helmet with FIA approval and you should probably get one with HANS posts as well as they are becoming mandatory in most forms of Motorsport. (HANS posts on the helmet connect to the HANS device via tethers to limit neck injury in the event of an accident - see picture below) FIA approved helmets with HANS posts start at roughly €200-€250 and can go up to more than 5 grand!
Helmet Fitment
Everybody's head is a slightly different shape, so it would make sense that some helmets might fit you better than others, the exact same as a pair of shoes or trousers might. I mentioned fitment briefly before but fitment really is critical to the safety of your helmet - a loose or ill fitting helmet could actually do you more harm than good in the event of an accident. The other aspect which shouldn't be overlooked is comfort. I recently bought a new helmet and had the intention of getting the cheapest FIA approved lid with HANS posts that I could, but when I tried it on, it was just all wrong for the shape of my head and felt awful. I ended up having to spend almost €100.00 more to get one that was comfortable, and I'm so glad I did - what a difference it makes! It's worth mentioning that different brands do fit differently for example, despite trying on dozens of ARAI helmets over the years I have never found one that was comfortable for me personally whereas tens of thousands of people world-wide use that brand every day - so try a few brands until you find one that fits just right.
Interesting fact: Some helmet outer shells are actually made slightly differently depending on which continent they are intended for as head shapes vary significantly between Asia, Europe and the USA.
The video below is a great guide to proper helmet fitment: If you have any questions please feel free to leave a comment below or drop us an email. Don't forget to check out all the info on our next track day
here
and also
have a browse around our shop
- we have some pretty nice merchandise as well as track days and gift vouchers!
---