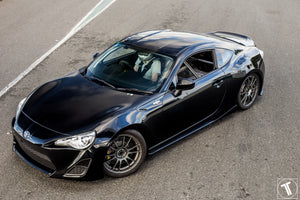 The perfect GT86?
Like the Mazda MX5, the GT86/BRZ was all about a 'less is more' philosophy. But unlike the hugely popular MX, the GT86 didn't seem to get away with just being a nippy, fun sports car, people seemed to expect and want a 'more is more' approach.   
It's possibly for that reason that it's a platform I've not been a massive fan of over the past number of years. However, in recent years there have been some great examples taking to the track, namely at the hands of Jack Shanahan and Adam Zalewski, I've been more open minded as to the capabilities of this chassis, and now with a detailed look around this track weapon I am now seeing just how versatile these cars can be. Running the 4 cylinder boxer engine from Subaru, it is certainly an avenue of performance I would have overlooked.
This particular GT86, for all intents and purposes, from the outside looks more or less stock, bar the fact its lowered. Owned by mechanical engineer, Barry O'Brien, this 2012 Toyota GT86 has seen a massive transformation since he bought it back in 2016 from GT3 Specialists in the UK, JRM.
Initially intended to be used in a clubman series, the car left the production line in Japan devoid of a chassis number and lacking an interior. Before making its way to Ireland and into the custody of Brian, the car saw only 200 kilometres of driving at a demo day in the UK.
From 2016 onwards, hundreds of man hours have transformed this from a 197bhp sports car to a 340bhp track ready weapon. Boasting a fully forged engine with a HKS supercharger, JE Pistons, Carillo rods and a substantial amount of head work done, this car is certainly no slouch on track.
Bringing an engine to life capable of over 600 bhp is a Motech M150 ECU with an AIM dash and data logger allowing Barry track his track times and being able to compare setup changes from one day to another.
Getting the power from engine to wheels is a Par engineering straight cut box with an IRP short shifter. O'Brien has opted for KW V3 coilovers all-round coupled with WiseFab grip suspension to get traction to the track. 
Using the sticky Toyo R888R all round and on 225/18 OZ Racing wheels, O'Brian certainly has left himself in a great position for maximum grip. Speaking to him at TD32 in Mondello Park, he is quite happy to keep running the HKS supercharger as opposed to a high boost turbo option and keep this high compression ( 12.5:1 ) GT86 at 340 rather than running more power in favour of the overall balance of the car and to keep it playful and tail happy, enabling him to enjoy his track time both in Mondello Park and further afield at tracks such as Anglesey and Oulton Park.

This car has been the first that O'Brien has decided to fully build himself having previously run a Nissan R35 for a number of years, his first experience of dipping his toes into track day fun, before changing chassis for a race prepared Lotus Exige. After having experienced two big offs at Parabollica the steps were taken to move back to the Japanese sports car and so this track weapon was born.
Looking forward to seeing Barry at more TrackDays.ie events into the future and seeing more crazy builds hitting the track!
---