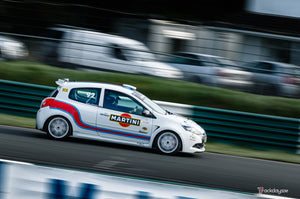 That Clio...
You couldn't help but have noticed Philip Gilmartin's Martini liveried Clio at our last trackday at Mondello Park, it's striking to say the least and that colour scheme really just makes an already racy looking car even more purposeful. The main thing you need to know about this Renaultsport Clio is that its had a heart transplant. This 197 has a Megane R26 engine & gearbox conversion.
I have to admit this is the first i'd heard of this conversion and it's increased my desire to own one of these Clio's even more. In the UK, seemingly this is quite a popular conversion but it's not just a simple plug and play job, considerable development has gone into making the Megane ECu and Clio loom talk to each other, in particular the immobiliser system.
The standard Renaultsport Megane 225 punched out 225bhp from its twinscroll turbocharged 4 cylinder 2 litre lump and the 6 speed manual had an open diff. The R26 unit, which this car features produces virtually the same power but has a helical LSD fitted from factory.
However this R26 motor is no longer stock and now kicks out a healthy 285bhp thanks to a remap, free flowing intake and a larger intercooler. Not bad for a small car weighing just over 1200kg's!
Philip bought this car with the conversion already done, which is by far the cheapest way to do it and of course the easiest. Philip, like many of us, gets his enjoyment from the sheer driving pleasure of owning a car like this rather than tinkering with the oily bits underneath and we completely get that.
The Clio is a relatively new addition to Philip's stable but as a keen track day enthusiast he'd already squeezed in a couple of UK track days and a trip to the Nurburgring before joining us at Mondello. With the performance levels that this car has, Philip thought it wise to invest in a some
driver coaching
to ensure he was getting the most out of it and Trackdays.ie chief instructor Stephen Kershaw jumped in to lend a hand.
The tuition certainly seemed to pay off and the only thing quicker on the day than this car and driver combo was
Pat McBennet's supercharged Elise
, but that's a race car and let's not forget this little Clio is still completely road legal and drives to every track day.
Want your car featured on Trackdays.ie?
Get in touch
---