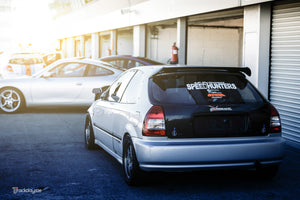 A Self Built Civic
Regulars to our track days will be familiar with the sight of Alan Healy's rapid silver ek Civic. If there was an award for most laps done at a track day I think Alan would be in with a chance of winning every time and the reason for that is that he's always testing out something new - a click on the dampers here, a few psi less in the tyres there, or whatever it may be. Although track days are non-competitive, you always have yourself to compete against and tweaking and adjusting your car to get the most out of it is a hugely enjoyable process and one that Alan clearly gets a kick out of too.
That and just the buzz you get from trackdays in general. A big part of the appeal is being able to bring passengers out and to take passenger spins in other people's cars - both are great ways to learn about your own driving and the handling characteristics of your car. If you hop into another car the same as yours and it's got awesome turn in and zero under steer, where your own is washing out, you know you have something attainable to work towards!
Virtually all the work on the ek bar the mapping and fabrication of the custom 2.5" stainless exhaust is done by himself. Despite being one of the quicker Honda's you'll see at any track day in Ireland this is not a car built purely with the cheque book, it's very much built on a budget and largely from tuning parts which come up on the Honda Parts IRL facebook group which Alan is an admin on. It's a great resource for any Honda owner, we've joined the group ourselves recently and are now constantly tempted by the daily update of go-faster Honda bits that we could bolt on to our own Civic.....not that we actually need any of them....but, well, they're shiny....and make you go faster, so the temptation is strong!!
As I mentioned, this car is still very much under development and no doubt will continue to be for some time, so as it stands, and by modified Honda standards the car (engine-wise at least) is still relatively conservative (although as you can see from the massive spec list there is a huge amount done) and I guess that's what makes the EK platform so popular for trackday enthusiasts. They're cheap to buy, quick out of the box, ultra reliable, infinitely tune-able and cheap to run.
The ultimate plan for this car is to go racing with it but that's an expensive hobby and track days are a cheap and effective place to learn the ropes, improve as a driver and learn how to get the most out of what you have. Don't be surprised though if we see this car on the Irish Touring Car grid before too long!
The short term goal is to keep tweaking, keep modifying and to get under the 2 minute barrier on the Mondello Park International circuit which as any regular will know is pretty damn quick, no matter what car you're in. A respray is also on the cards apparently as the current '50 shades of grey' simply won't cut it! Here's a quick onboard video from the last track day at Mondello
Spec:
SHELL
98 Facelift EK2 1.3 Automatic Shell
VSM (Vogue Silver Metallic)
All sound deadening removed
Doors Lightened
Polycarbonate Side and Rear Windows
Carbon Vented Bonnet with Aerocatches
Carbon Bootlid with Pins
Carbon EK9 Rear Wing
GT Wing Mirrors
EK9 Front Lip
EK9 Style Headlights
50/50 Rear Lights ENGINE
97' B18c Bottom End
97' B16b Head
97' B16b Camshafts
P73 Inlet Manifold
Skunk2 70mm Throttle Body
Blox Velocity Stack
K20 Injectors with Machined Fuel Rail
NGK BKR8EIX Iridium Plugs
Walbro Fuel Pump
Baffled Sump
ARP Head Studs
EK9 N1 Lightweight Crank PulleyDRIVETRAIN
S80 N3e Gearbox
Mfactory 5.1 Findal Drive
Kaaz Plated LSD
96spec 4th and 5th Gears
Fidanza Flywheel
Exedy Stage 2 Paddle Clutch
J_Spares Driveshafts
DC2 Polybushed Gear LinkageSUSPENSION
HSD Fully Adjustable Coilovers
DC2 Type R Subframe and Manual Rack
DC2 Anti Roll Bar
Hardrace Front Camber Arms
Hardrace Rear Camber Arms
Hardrace Rear Toe Arms
Function 7 Lower Control Arms
ASR Brace
ASR Rear Anti Roll Bar
Energy Suspension Polybushes
Passwrd JDM 3 point Strut
EK9 Optional Rear Strut BraceINTERIOR
Sparco Wrap Around FIA Bucket Seats
Sabelt Harnesses
OMP 6 Point Cage w/ Door Bars
Lightened and Flocked Dash with Carbon Centre Panel
SiR Cluster
Carbon Door Cards
OMP Deep Dish Steering WheelELECTRICAL
OBD2a Dash Loom
OBD2a Wiring Loom
P73 OBD2a ECU
Battery Isolator
Control Panel with Ignition, Fuel Pump, Twin Fans, 12v and Windscreen Heater Switches
Stack Oil Pressure Gauge COOLING
Tegiwa DC2 Aluminium Rad
Twin 10" Slimline Fans
Silicone Radiator Hoses
Heater Matrix RemovedEXHAUST
PLM RMF Header
Custom 2.5" Catback by Richie CullinaneHUBS AND BRAKES
EK4 Hubs
ATR Front Calipers with EK9 Carriers
282mm MG Drilled and Grooved Discs
Carbon Lorraine RC6 Pads
Ek4 Rear Calipers
EBC Rear Pads
Braided Brake Lines
DC2 1" MC & Servo
Motul RBF 600 Brake FluidWHEELS AND TYRES
15x6.5 ET35 Volks Rays Engineering TE37's
Yokoham Advan AD08r 205/50/15
15x7 ET42 Team Dynamic Pro Race 1.2
Toyo Proxes R888R 205/50/15
15x7 ET35 STR Alloys x2
Yokohama Advan A048R 195/50/15Current power at the moment is 214.3bhp and 152 ft lbs TQ. Mapped on Neptune Demon Board by AP-Performance in Galway
Bonus Images:
---