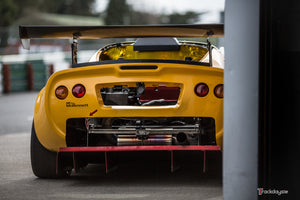 The McBennett Motorsport Supercharged K20 Elise
The McBennett Motorsport Supercharged K20 Elise
If you're at a track day with Pat Mcbennetts bright yellow 1997 Lotus Elise, it's likely to be the fastest thing there that day, and that goes for virtually any day. What I love about this car is that like
Alan Healy's B18 ek Civic
that we featured last week, it conforms to that fashionable statement 'built not bought' But there's nothing fashionable about this car - yes it looks bloody awesome but that's because its 10 year development program just has it looking that way. It's pure function over form. It's designed to go as fast as possible and be as light as possible and the culmination of components that achieve that goal just so happen to look spectacular.
The car started life as a standard 1.8 Rover K series model and served 10 years on the road car in the UK and covered about 75 thousand miles. At some point it suffered a bit of accident damage and was Cat C, it then had an engine failure as all K series engines do!! and before pat got his hands on it the Honda K20 engine from the ep3 type R Civic had already been transplanted in. Seemingly, once you know what you're looking for (in terms of a well executed conversion) it's usually cheaper to buy an already converted car from the UK than doing the K swap yourself. At the moment the prices for a K20 powered Elise start at roughly £10k. As with all the best drivers cars, a strong aftermarket for tuning parts and accessories for the Elise/Exige has developed over the years, so much so that it's quite hard to find a completely stock one these days. The thriving aftermarket means there is an ever growing pool of go-faster bits available to bolt on.
Engine & Gearbox
While the Elise looks pretty wild and dramatic, the engine and gearbox internals are all completely bog standard. The engine came straight out of an ep3 road car with 60-odd thousand miles on the clock, and the gearbox which has standard ratios and the standard helical LSD is out of a Japanese spec DC5. All this makes the car ultra reliable and has completed 6 full seasons of racing and god knows how many track days without an issue.
The K20 is now fitted with a Rotrex supercharger which is rated up to 400bhp. Because the mid-mounted engine really doesn't allow for an intercooler to be mounted anywhere practical a charge cooler is used and as yet, doesn't seem to be suffering from too much heat soak. The car is running at about 330bhp and 220ft/lbs of torque and it weighs a svelt 850kg's with the driver in it. While this sounds light by modern standards, this car is actually up considerably in weight over the standard road car which weighs 730kg's empty. The honda engine and box add an extra 35kg's over the Rover unit and the rest of the additional weight comes in the form of the roll cage, supercharger set up and the aero package.
Body/Aero
The car is now fitted with Kevlar race body panels which give it a much wider, more aggressive look and save an extra 10kg's over the standard bodywork. Pat managed to pick up a job-lot of them for less than the price of a standard set of panels so it was a no-brainer and now he has plenty of spares should anything get damaged.
The aero package on the car, which, except for the rear wing, Pat built himself, provides real downforce. Previously, in this car with the original wing and front splitter he was going through Debtors at Kirkistown at 120mph. With the new rear wing, race bodywork, flat floor and revised splitter he's now able to carry 130mph without lifting, which is a big difference.
Interior
The interior of the car is fairly sparse but to be honest so was the original. Pat's ethos is to keep things simple and bar a carbon dash and carbon seat there really is very little to the interior.
Suspension
On the suspension side of things, all the original rubber and metalastic bushes have been swapped out for rose joints, the wishbones remain standard, it has a bigger anti-roll bar on the front. The dampers are some very sexy Ohlins 3 way adjustable remote reservoir units with Eibach springs.
Brakes
The Brakes are uprated and the original front brake set up is now on the rear. The front has AP Racing 4 pot calipers and discs with Carbon Lorraine RC5 pads, which by Pat's admission are a bit of an extravagance but then they last for years. The current discs have been on the car for the last 5 or 6 years. There's no ABS or servo assistance even but there is a larger bore Master cylinder to keep the pedal feel with the larger calipers.
McBennet Motorsport
McBennet Motorsport
is a sideline to Pat's day job as farmer and is more for enjoyment than anything else. The company developed organically over years while he was racing and doing track days. "When you start winning races you tend to get people coming looking for little bits of setup advice and looking at how your car is prepared, over time that just grew into preparing and maintaining customers cars. We specialise solely in the Elise and Exige" Now Pat maintains most of the Elise's on Irish soil and is without doubt, the country's leading specialist. Bonus images:
images with thanks to
Brian Walsh
---